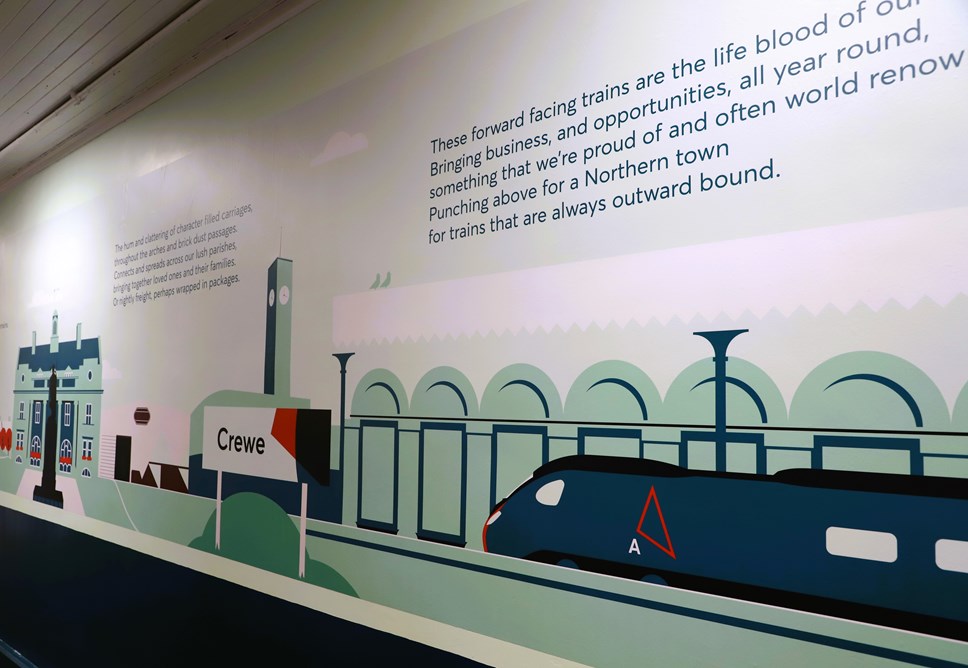 Avanti West Coast celebrates Crewe's railway heritage in new station mural
Town's close links to the railway reflected in new community art installation at Crewe station.
Local poet's words to celebrate Crewe's railway history brought to life in new station artwork
The project is a collaboration between Avanti West Coast, North Staffordshire Community Rail Partnership and local poet
Local schools' programme planned for 2024 to further celebrate Crewe's role in the railways
A bespoke mural has been unveiled at Crewe station celebrating the town's railway heritage.
The large-scale artwork, which takes its inspiration from the words of local poet Gareth Williams, is part of a project by Avanti West Coast and North Staffordshire Community Rail Partnership.
The poem, entitled 'Tracks are our Veins', features on the 12-metre mural, along with several of the town's notable landmarks.
The display at the Avanti West Coast managed station, so synonymous with the railway, marks the end of a 12-month celebration of 185 years of history since renowned civil engineer, Joseph Locke, first identified Crewe as a junction on the new West Coast Main Line.
Karen Grimshaw, Avanti West Coast Station Manager at Crewe, said: "Millions of people pass through the station each year but few outside the area, know the real story of Crewe.
"Gareth's passion and words are really brought to life by the mural and the customer reaction has been really positive."
Gareth, who set up his own business Rhymeology during lockdown to help companies express themselves in an innovative way, grew up in Crewe and was also from a railway family.
Commenting on the mural, he said: "Like most people from Crewe, the railway is in my blood. We are incredibly proud of the role our town has played, and will continue to play in the railway story.
"So it was a great honour to be asked to bring that story to life through rhyme and what better place for the mural than the station itself."
Listen to Gareth read his poem here: :
The project will continue into 2024, with primary and high schools in Crewe producing a poetry booklet. This will feature Gareth's poem, alongside verses from pupils on a range of rail related themes including the history of the railway in Crewe and the future of rail travel. The project will conclude with a poetry event at Crewe Station.
Emma McIntosh Community Rail Partnership Officer, North Staffs Community Rail Partnership said: "Gareth's poem is a wonderful celebration of the origins of Crewe and one we hope will inspire pupils at local schools to capture, through poetry, the town's close links with the railway."
Picture Mural 5 - Gareth Williams with Avanti West Coast Community Manager Jo Buckley.
Contact Information
Richard Stanton
Avanti West Coast
Notes to editors
About Avanti West Coast
Avanti West Coast, operator of intercity rail services on the West Coast Main Line, is a joint venture between FirstGroup and Trenitalia, delivering a cleaner, greener railway that drives the West Coast forward.
We're on a mission to revolutionise train travel. Our refurbed Pendolinos are returning to the rails, with a £117m investment that's delivering best in class comfort. Rebuilt using sustainable materials wherever possible, including tables made from recycled plastic bottles, our upgraded fleet offers 25,000 brand new seats, free Wi-Fi, onboard recycling and much more.
New Hitachi trains are set to replace our Voyager trains from 2024, leading to a 61% cut in carbon emissions. Quieter and roomier, with more reliable Wi-Fi, wireless charging for electrical devices and a real-time customer information system, the new 23-strong fleet is the result of a £350m investment in sustainable travel.
We're tackling climate change wherever we can, from reducing energy and water use to training drivers in eco-driving techniques and sourcing food and drink from local suppliers. Our goal is to be net zero carbon by 2031. We're on track.
For the latest news, visit the Avanti West Coast Media Centre: https://newsdesk.avantiwestcoast.co.uk/
Press Office: 0845 000 3333
About Rhymeology
Rhymeology specialise in distinctive rhythmic poetry to add personality and unique life to campaigns. A form of lyrical marketing, the work of Gareth Williams helps weave together narratives, unseen or hidden messages that can audiences feel listened to, understood and connected to the experience around them.
For more information please visit: https://rhymeology.co.uk