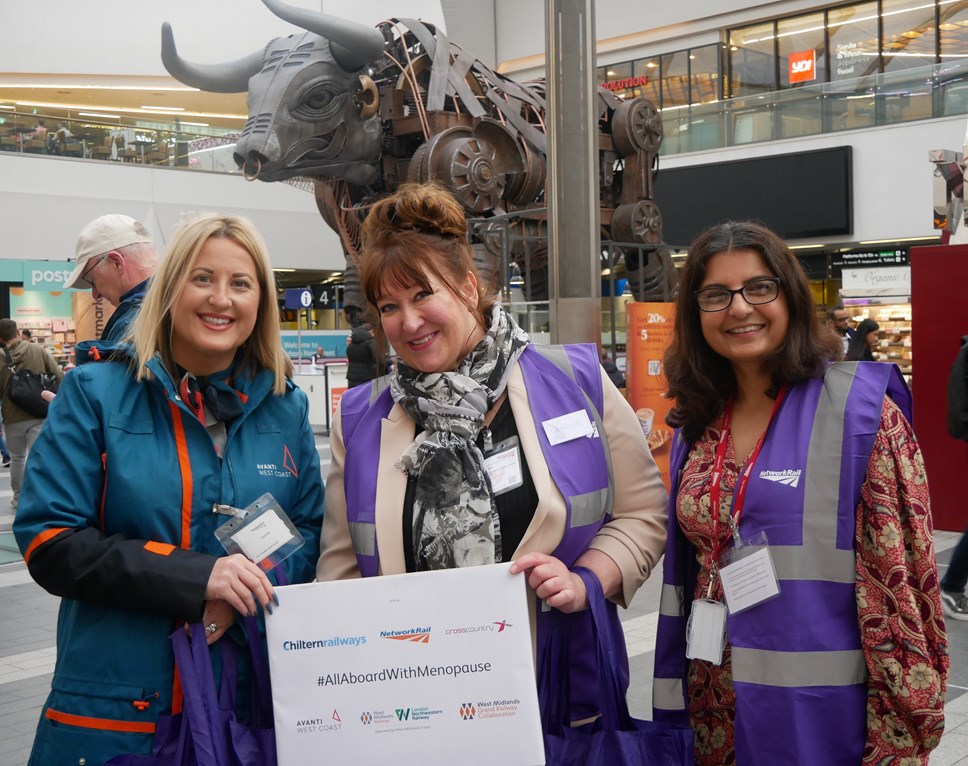 Avanti West Coast encourages conversation amongst colleagues on World Menopause Day
Avanti West Coast marks World Menopause Day with activities in West Midlands.
Avanti West Coast teams up with industry partners to mark World Menopause Day
Gender Network host drop-in session to support colleagues affected by menopause
Activities part of train operator's efforts to become Menopause Friendly Employer
Avanti West Coast is championing the power of conversation as part of its activities to mark World Menopause Day.
Joining industry partners for a unique event held by Network Rail at Birmingham New Street, representatives from Avanti West Coast discussed its journey towards becoming a Menopause Friendly Employer and shared tips about how the workplace can support colleagues.
Aimed at raising awareness of menopause, the event on 18 October brought together colleagues from Network Rail and train operators that serve the West Midlands to share their experiences on the topic.
Avanti West Coast also continued its efforts to get people talking about menopause by hosting a drop-in session at its Wolverhampton depot – an initiative spearheaded by Customer Service Assistant, Hellen Briscoe.
Speaking on World Menopause Day, Hellen said: "At Avanti West Coast we're proud to be playing our part to get people talking about menopause and reduce the taboo around the topic.
"We've had a great response to our efforts to create a safe space for women to have conversations and share their experiences with others. Whether it's those going through symptoms or anyone that knows a friend or loved one affected by menopause, knowing they can talk to someone has provided them with great comfort and support. We want to highlight the power of these conversations – especially today – and encourage more people to talk, so everyone has a greater understanding of menopause, and so we can continue to improve our support for colleagues on the west coast."
The drop-in follows similar events at Manchester and Preston designed to support women who are experiencing symptoms, as well as anyone wanting to learn more about their relative or friend who may be going through the menopause.
Marking World Menopause Day in this way is the latest effort by Avanti West Coast to deliver on its commitment to becoming an accredited Menopause Friendly Employer after signing up as a member to one of the UK's fastest growing websites for women, Henpicked. The site hosts a dynamic community of women who want to help one another.
Henpicked provide training, education, and resources to support workplaces in achieving the Menopause Friendly Employer Accreditation – a mark that employers have a clear understanding of how menopause can have an effect at work and that they care about the wellbeing of their colleagues.
Earlier this year, the train operator launched its menopause guidance – a resource for employees that helps understanding of the subject with hints, tips, and signposting to support. An internal forum called 'Menopause for thought' was also created for employees to discuss the subject in a safe space.
Resources available for staff on the west coast has expanded with the recent introduction of a Menopause Library, which offers staff access to topical books with expert advice.
ENDS
Contact Information
Laura Normansell
Avanti West Coast
Notes to editors
Main image (Left to Right): Hellen Briscoe, Avanti West Coast Customer Service Assistant, with Network Rail colleagues at the All Aboard Menopause event at Birmingham New Street.
To read Hellen's story, visit: Avanti West Coast supports colleagues affected by menopause with drop-in session
Read why Avanti West Coast introduced menopause guidance: "It's important to share what we're doing on a topic that affects women, while raising awareness" (avantiwestcoast.co.uk)
About Avanti West Coast
Avanti West Coast, operator of intercity rail services on the West Coast Main Line, is a joint venture between FirstGroup and Trenitalia, delivering a cleaner, greener railway that drives the West Coast forward.
We're on a mission to revolutionise train travel. Our refurbed Pendolinos are returning to the rails, with a £117m investment that's delivering best in class comfort. Rebuilt using sustainable materials wherever possible, including tables made from recycled plastic bottles, our upgraded fleet offers 25,000 brand new seats, free Wi-Fi, onboard recycling and much more.
New Hitachi trains are set to replace our Voyager trains from 2023, leading to a 61% cut in carbon emissions. Quieter and roomier, with more reliable Wi-Fi, wireless charging for electrical devices and a real-time customer information system, the new 23-strong fleet is the result of a £350m investment in sustainable travel.
We're tackling climate change wherever we can, from reducing energy and water use to training drivers in eco-driving techniques and sourcing food and drink from local suppliers. Our goal is to be net zero carbon by 2031. We're on track.
For the latest news, visit the Avanti West Coast Media Centre: https://newsdesk.avantiwestcoast.co.uk/
Press Office: 0845 000 3333