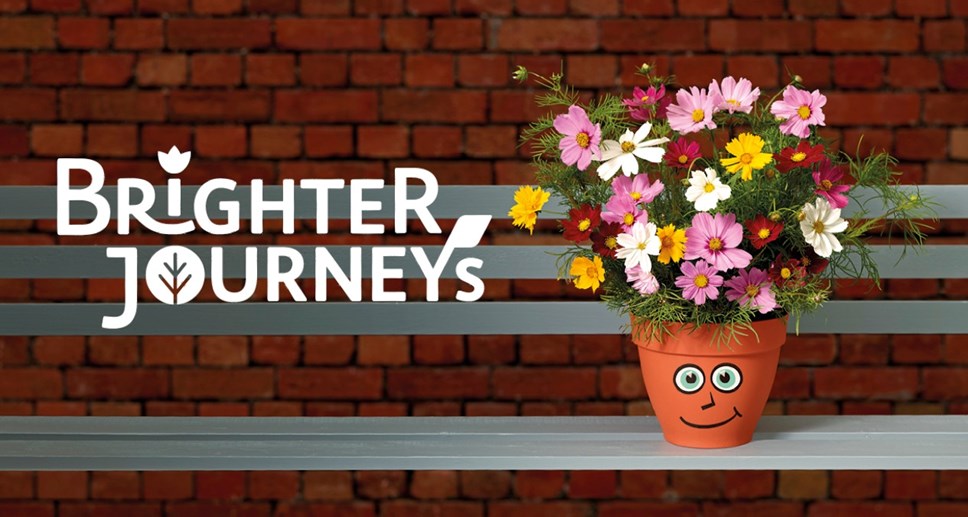 Avanti West Coast gets on board for Brighter Journeys to support passengers' wellbeing
Avanti West Coast supports Network Rail's Brighter Journeys campaign to lift passengers' spirits.
Rail industry seeks to make people smile and encourage to seek help during Mental Health Awareness Week
Campaign hopes to lift spirits amidst rising concerns over impact of pandemic on people's mental health
Avanti West Coast joins industry to champion power of nature for good wellbeing
Avanti West Coast, together with Network Rail and the wider rail industry, has joined Chasing the Stigma to support passengers' wellbeing for Mental Health Awareness Week.
From Monday 9 – Sunday 15 May, the environment of some railway stations will be transformed as part of Network Rail's 'Brighter Journeys' campaign with the sights, sounds, and scents of the outdoors.
Utilising the power of nature to make people feel happier and more connected, the campaign aims to turn stations into positive community areas, as well as signposting to the Hub of Hope – an app run by mental health charity, Chasing the Stigma, that offers support for those struggling.
Passengers at Birmingham New Street will get to experience nature with a sensory installation featuring flowers in bloom, to make the station feel brighter and happier.
By bringing the great outdoors inside, with bursts of colourful flowers greeting passengers as they embark on their journey, it is hoped this will act as a pleasant surprise that will lift people's spirits and put smiles on their faces.
Elsewhere, until the end of May, those travelling on the West Coast Main Line will be handed paper embedded with plant seeds signposting them to the Hub of Hope app, as well as have the opportunity to hear calming birdsong on the platform.
Research shows that interacting with nature puts people in a more positive mindset and makes them feel more grounded and calm.*
The campaign comes in light of new data which reports that more than a third of adults (35%) said they were 'very' or 'somewhat' worried about the effect of the pandemic on their lives 'right now'.*
Joanna Buckley, Community Manager at Avanti West Coast, said: "Mental health is important to our people and the communities we serve, and we know it's the small things that can make a huge difference to our wellbeing.
"This is why we're proud to be supporting Network Rail's Brighter Journeys campaign to champion the power of nature for mental health and help signpost those who are struggling to the support and services relevant to their needs."
Jack Mills, founder of Chasing the Stigma and Hub of Hope app, added: "It is great to be working with Network Rail on the Brighter Journey's campaign. Nature is really important for mental health, so we hope commuters enjoy seeing these floral installations and they put a smile on people's faces.
"We also hope that this acts as a reminder that no one is ever alone, and mental health support is available at any time, you don't have to be in crisis to get help. If anyone is struggling or knows someone who needs help, please download the Hub of Hope app."
ENDS
Contact Information
Laura Normansell
Avanti West Coast
Notes to editors
*Data taken from the ONS 'Coronavirus and the Social Impacts on GB' report published on 1st April 2022.
Brighter Journeys will signpost people to share and download the Hub of Hope app if they or someone they know are struggling with their mental health. The Hub of Hope app is a free app that connects people to more than 4,000+ mental health support services and groups across the UK. It is available on iPhone, Android and desktop (www.hubofhope.co.uk) and directs people to the nearest relevant local support using either the postcode typed in by the user or the location of the web browser or mobile device. Searches can be filtered by specific concern/type of support required, for example peer-to-peer groups, NHS or voluntary groups. For those needing immediate help, the app has a 'Need Help Now?' button that connects users directly to Samaritans or Crisis Text Line's messaging service. About Chasing the Stigma
Chasing the Stigma is a national charity committed to normalising mental health. We make it easy to find help through the Hub of Hope support app, we create an environment of understanding through our Ambassador of Hope training and we campaign for change, every day.
For further information about Chasing the Stigma visit: www.chasingthestigma.co.uk
About The Hub of Hope
The Hub of Hope is the UK's leading mental health support database. It is provided by national mental health charity, Chasing the Stigma, and brings local, national, peer, community, charity, private and NHS mental health support and services together in one place for the first time.
Initially a simple spreadsheet of local services populated at the kitchen table of Chasing the Stigma founder and CEO, Jake Mills, the Hub of Hope was born out of Jake's own lived experience of extreme mental and emotional distress. He witnessed first-hand the difficulties in finding relevant, accessible and nearby support when it was most needed and decided to take action.
To date, the Hub of Hope has directed hundreds of thousands of people to life-changing and even life-saving support and it is now the UK's go-to mental health support signposting tool, with thousands of local, regional and national support groups and services listed.
About Avanti West Coast
Avanti West Coast, operator of intercity rail services on the West Coast Main Line, is a joint venture between FirstGroup and Trenitalia, delivering a cleaner, greener railway that drives the West Coast forward.
We're on a mission to revolutionise train travel, linking together the towns and major cities of the UK to create an iconic railway the country can be proud of. We've got big plans including a fleet of new intercity trains, as well as the complete refurbishment of the existing Pendolino train fleet. We will introduce more train services every week with new routes added, and a much-improved onboard service with enhanced free Wi-Fi, plug sockets, 25,000 brand new seats and improved catering. Since 8 December 2019, passengers have benefitted from improved passenger compensation, available for journeys delayed by just 15 minutes.
For the latest news, visit the Avanti West Coast Media Room: https://newsdesk.avantiwestcoast.co.uk/
Press Office: 0845 000 3333