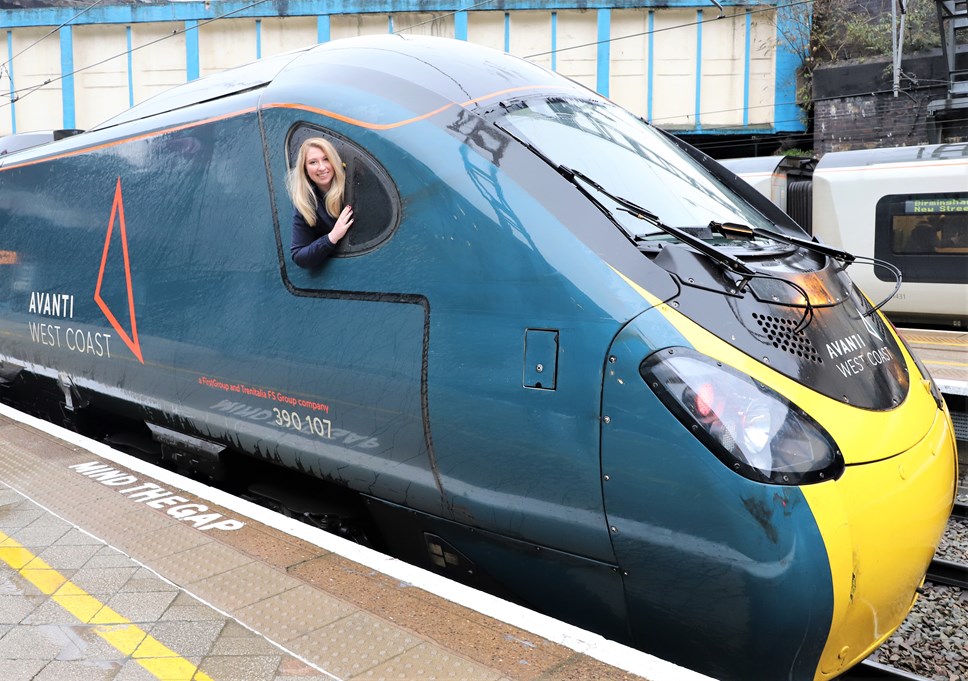 Avanti West Coast launch new Train Driver recruitment campaign
Avanti West Coast encourages more women to consider a career as a Train Driver as part of new driver recruitment campaign.
Avanti West Coast set to recruit 40 new train drivers in 2022
Recently qualified driver Hayley Richardson encourages more women to apply
Helpful advice offered on new dedicated page on website
Avanti West Coast has launched a campaign to help recruit 40 new Train Drivers at locations throughout the UK in 2022.
The initiative aims to encourage more people, especially women, to consider the role as a realistic career to pursue.
Earlier this month, applications opened for the first ten new posts. As a part of the that recruitment process an online Train Driver question and answer session was held featuring newly qualified driver Hayley Richardson who talked about her experience.
Over 1,000 people signed up to hear the London based recruit, who spent ten years working for the Cambridgeshire Constabulary, qualifying as a Detective Constable, share details about her training and what it's like to drive at train at 125mph.
"I absolutely love being a Train Driver," said Hayley. "I wanted to do something out of my comfort zone, and I would encourage anyone, especially women who are looking for a career change or have their hearts set on becoming a driver to put in an application."
Further posts are expected to be advertised in June at depots in the Midlands and North West.
Successful applicants will need to be over 20 years and six months of age when applying, live within an hour of their designated depot and meet the required medical standards.
A short transcript of Hayley speaking during the Q&A can be found here.
Avanti West Coast has also created a dedicated webpage offering helpful advice to those actively thinking about train driving as a career with the option to sign up for job alerts - https://www.avantiwestcoast.co.uk/about-us/careers/train-driver-recruitment.
Richard Morrow, Head of Drivers at Avanti West Coast added: "Train driving is a wonderful career, one that carries a lot of responsibility and job satisfaction. Whilst the application process is competitive, if you think you have what it takes, then we'd love to hear from you."
Image: Train Driver Alice Catchpowle
Contact Information
Richard Stanton
Avanti West Coast
Notes to editors
About Avanti West Coast
Avanti West Coast, operator of intercity rail services on the West Coast Main Line, is a joint venture between FirstGroup and Trenitalia, delivering a cleaner, greener railway that drives the West Coast forward.
We're on a mission to revolutionise train travel, linking together the towns and major cities of the UK to create an iconic railway the country can be proud of. We've got big plans including a fleet of new intercity trains, as well as the complete refurbishment of the existing Pendolino train fleet. We will introduce more train services every week with new routes added, and a much-improved onboard service with enhanced free Wi-Fi, plug sockets, 25,000 brand new seats and improved catering. Since 8 December 2019, passengers have benefitted from improved passenger compensation, available for journeys delayed by just 15 minutes.
For the latest news, visit the Avanti West Coast Media Room: https://newsdesk.avantiwestcoast.co.uk/
Press Office: 0845 000 3333