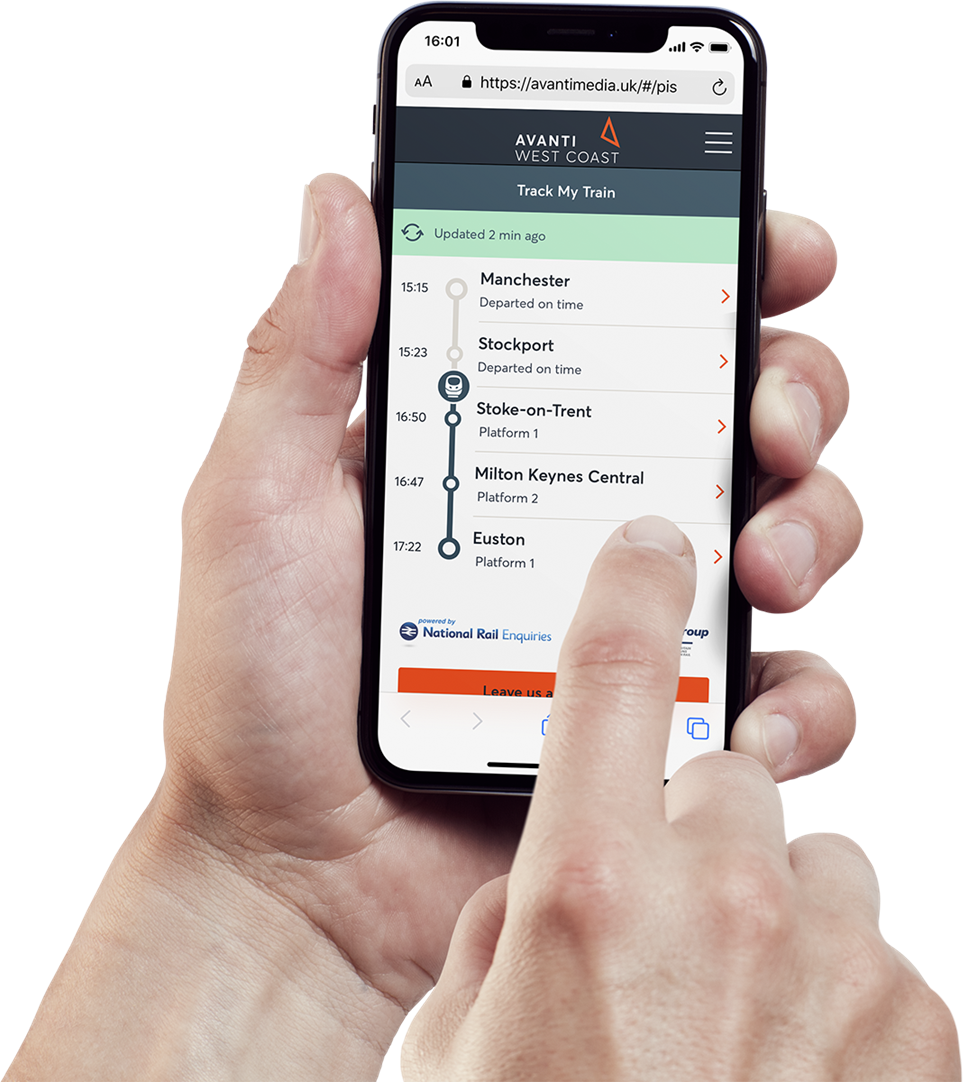 Avanti West Coast launches customised real-time journey updates onboard
New passenger information service offers Avanti West Coast customers real-time journey updates at their fingertips.
Train operator develops new onboard service that updates customers on journey status
'Track My Train' keeps customers informed onboard at the tap of a screen
Customers can track their train in real-time using own device
Avanti West Coast has launched a new passenger information service giving real-time journey updates to customers at their fingertips.
The onboard service called 'Track My Train', enables customers to follow the progress of the train they're travelling on in real-time, using their own personal device.
Accessed exclusively through Avanti West Coast's Wi-Fi homepage at the tap of a screen, Track My Train brings together live updates of a train's journey and onward connections, tailoring it to each customer's journey.
Developed in partnership with transport infotainment specialist, GoMedia, the onboard service uses live data from industry systems to show exactly where a train is, estimated arrival times along the route, any disruptions, and departure details for other rail services – all in one place. Therefore, customers can check the status of their journey without having to switch between screens or filter information.
To stay up-to-date onboard customers simply connect their device to the Wi-Fi and select the Track My Train icon. The tool auto-populates information relating specifically to the customer's journey – helping to make the end-to-end experience more seamless.
The technology is the latest initiative to be rolled out across Avanti West Coast's fleet of Pendolino and Super Voyager trains. It follows on from the introduction of Avanti Media – a free on-board entertainment service that allows customers to stream movies, TV box-sets, games, magazines and newspapers to their personal device.
Bob Powell, Customer Proposition Director at Avanti West Coast, said: "We know how important it is for our customers to stay informed during their journey and Track My Train helps to do just that. This new service makes it easier for customers to follow their train's progress while onboard, by providing concise and reliable information, tailored to journeys in real-time, at the tap of a screen.
"It has been great to work with GoMedia to develop this technology and we're excited to offer it as part of our latest initiative to enhance the overall experience when travelling with us."
Roger Matthews, managing director at GoMedia, adds: "Providing passengers with real-time information about their individual route, including connections and stations, creates a truly personalised experience, giving users control over their entire journey, door-to-door. This is now more important than ever with changing restrictions on the way we use public transport."
ENDS
Contact Information
Press Desk
Avanti West Coast
Notes to editors
About GoMedia
GoMedia creates award-winning infotainment platforms for rail, coach and transport companies, including Eurostar, Avanti West Coast, Greyhound Buses (USA), TransPennine Express, SBB and Chiltern Railways. The company's technology is proven to increase customer satisfaction and helps monetise operators' existing onboard Wi-Fi infrastructure revolutionising passenger experiences, through world-class entertainment, information and advertising content that is hosted onboard and delivered to passengers' own mobile devices. All GoMedia solutions come with the company's world leader offline Transport DRM solution that allows customers to watch premium content, even if there is no external connectivity available to the vehicle.
GoMedia provides services to deliver its award-winning infotainment platform, with content from major studios (such as Universal Pictures and Warner Bros), catch-up TV from ITV, comedy from UKTV, sport news and SoccerAM from SKY, popular box sets and original series, games, digital newspapers and magazines.
GoMedia is integrating intelligent personalised passenger information into its app and browser propositions, delivering on the connected journey promise.
For more information, visit www.gomedia.io
About Avanti West Coast
Avanti West Coast, operator of intercity rail services on the West Coast Main Line, is a joint venture between FirstGroup and Trenitalia, delivering a cleaner, greener railway that drives the West Coast forward.
We're on a mission to revolutionise train travel, linking together the towns and major cities of the UK to create an iconic railway the country can be proud of. We've got big plans including a fleet of new intercity trains, as well as the complete refurbishment of the existing Pendolino train fleet. There will be 263 more train services every week by 2022 with new routes added, and a much-improved onboard service with enhanced free Wi-Fi, plug sockets, 25,000 brand new seats and improved catering. Since 8 December, passengers have benefitted from improved passenger compensation, available for journeys delayed by just 15 minutes.
For the latest news, visit the Avanti West Coast Media Room: https://newsdesk.avantiwestcoast.co.uk/
Press Office: 0845 000 3333