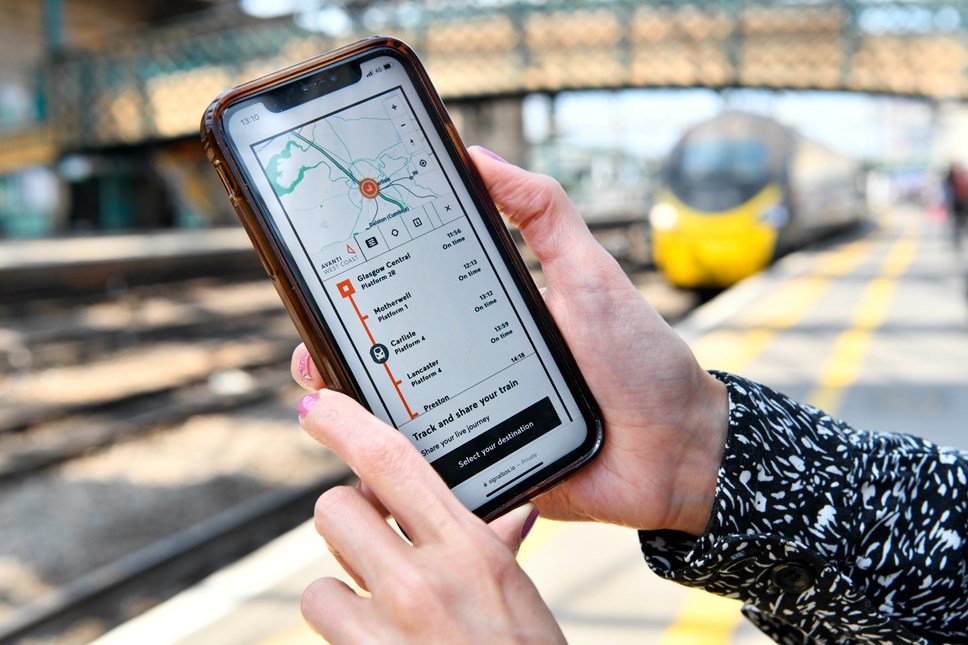 Avanti West Coast launches interactive rail map to track trains on the move
Interactive map helps Avanti West Coast customers keep track of their train while travelling.
Intercity operator teams up with tech innovator Signalbox to create customised live train map
Interactive technology provides real-time data and live maps of rail network
Customers can track train's progress with touch of a screen on personal devices
Avanti West Coast has launched an interactive live rail map online to help customers track their train in real-time during their journey.
Collaborating with rail tech innovator, Signalbox, Avanti West Coast has introduced a map feature on its website as part of a trial that offers customers an easy way to view trains in real-time on their smartphone, tablet, or computer. The technology is designed to improve journeys by letting passengers access more detailed information while travelling.
Building on Signalbox's existing technology - which detects, tracks, and maps trains anywhere in Great Britain - it provides an interactive tool that's customised for passengers using the West Coast Main Line. Users can follow the progress of services they're travelling on or check the status of trains near their chosen station to view information most relevant to their journey.
The map uses live data enhanced by location to enable customers to view and track local train movements, check the performance of rail services, or tap a specific train to see its calling points and status updates.
The live train map displays information in a visually engaging way – using a geographical map with icons depicting each passenger train travelling on the rail network. The icons use chevrons to indicate the direction of travel and colours illustrate the status of train's journey.
Tapping the icon allows users to see further detail of the train's journey – outlining the platform number and arrival times at each of its planned calling points.
The technology, which is currently being trialled, was chosen as an innovative solution following a suggestion from the station team at Carlisle that customers would benefit with a visual guide of their train's location. After a pilot scheme on digital screens at Carlisle station, the launch of the map online aims to give more customers across the network access to the tool.
A tailored version of the map can be used to view updates about a specific train – whether someone is keen to keep track of the arrival time of a friend, relative or colleague at their destination or a customer wants to know exactly where they are during their journey, so they can share their location. This makes it simpler to plan and manage journeys, as well as providing reassurance when travelling.
While customers already have the option to monitor the progress of their journey through functionalities, such as Live Train Status, Journey Check, and planned engineering work, which enable them to find their train's status, check if a route is impacted by disruption, and be aware of planned engineering work on their chosen travel date, the map offers a visual alternative.
Avanti West Coast and Signalbox are also working to make more of the content accessible for assistive technologies, including screen readers. A toggle button to further change the colour contrast of the map will also be made available to support low-vision users.
If the trial is successful, the technology could be rolled out across other Avanti West Coast digital channels.
Customers who wish to track trains on their own device can visit: https://www.avantiwestcoast.co.uk/travel-information/live-train-status/signalbox
Signalbox CEO, Toby Webb, said: "It's been great to work with Avanti West Coast to deliver a new application that incorporates the best bits of our technology to detect, map, and share trains.
"The innovation we've created for the trial is a new simple way for passengers to access real-time information that's personalised for their journey. We hope this approach to delivering live data directly to travellers on the move improves the passenger experience across the network."
David Franklin, Innovation Strategy Manager at Avanti West Coast, said: "We know how important it is to our customers to have clear and live information when travelling with us. We're always looking to find new and better ways of doing things and are delighted to innovate with Signalbox to trial this technology.
"By providing our customers with a good visual to locate their train, we hope they'll feel more reassured, as well as have greater confidence when travelling with access to information specific to their journey at the touch of a finger."
Customers can share their feedback by selecting the 'thumbs up' or 'thumbs down' icons above the map on the Live Train Status webpage.
ENDS
Contact Information
Laura Normansell
Avanti West Coast
Notes to editors
About SignalBox
Signalbox is a rail tech innovator, building tools to detect, map, and share trains anywhere in Great Britain.
Our vision is to deliver personalised real-time updates to passengers across the rail network, giving them easy access to accurate train tracking and mapping tools – and making it simpler to plan and manage trips by train.
Signalbox's flagship product – Find My Train – lets smartphone users quickly find and follow their train in real-time. Alongside our Live Train Map and ETA sharing tools, Signalbox technology offers user-friendly ways for passengers to access personalised live data for their journey – online on smartphones, and in stations.
About Avanti West Coast
Avanti West Coast, operator of intercity rail services on the West Coast Main Line, is a joint venture between FirstGroup and Trenitalia, delivering a cleaner, greener railway that drives the West Coast forward.
We're on a mission to revolutionise train travel. Our refurbed Pendolinos are returning to the rails, with a £117m investment that's delivering best in class comfort. Rebuilt using sustainable materials wherever possible, including tables made from recycled plastic bottles, our upgraded fleet offers 25,000 brand new seats, free Wi-Fi, onboard recycling and much more.
New Hitachi trains are set to replace our Voyager trains from 2023, leading to a 61% cut in carbon emissions. Quieter and roomier, with more reliable Wi-Fi, wireless charging for electrical devices and a real-time customer information system, the new 23-strong fleet is the result of a £350m investment in sustainable travel.
We're tackling climate change wherever we can, from reducing energy and water use to training drivers in eco-driving techniques and sourcing food and drink from local suppliers. Our goal is to be net zero carbon by 2031. We're on track.
For the latest news, visit the Avanti West Coast Media Centre: https://newsdesk.avantiwestcoast.co.uk/
Press Office: 0845 000 3333