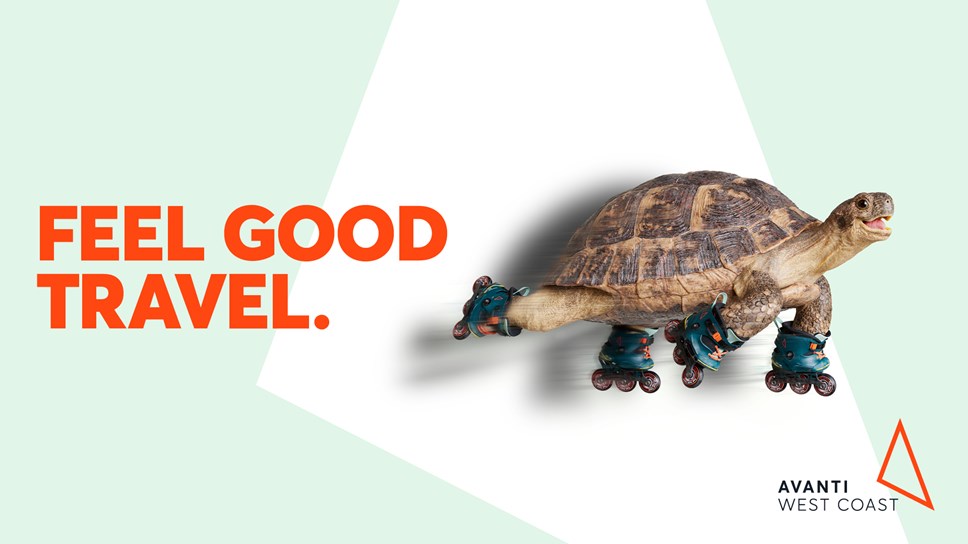 Avanti West Coast launches new 'Feel Good Travel' campaign
The effortless, enjoyable experience of rail travel is brought to life in new Feel Good Travel campaign starring a rollerblading turtle.
Rollerblading Turtle 'Turbo' the hero of new marketing campaign
Feel Good Travel designed to encourage more people to come and see the sights along the West Coast route
Local communities expected to benefit from increased tourism
Avanti West Coast's has unveiled its new fun campaign titled "Feel Good Travel" aimed at encouraging people back to rail.
Spearheaded by Turbo, a rollerblading turtle, Feel Good Travel launched in the same week the West Coast Main Line operator reintroduced extra services on its Manchester, West Midlands and North Wales routes.
By encouraging people back to rail, the campaign will also help support the communities Avanti West Coast serves, including local businesses, and promote a more environmentally friendly travel choice.
The new campaign includes a 60 second television advert featuring Turbo whizzing around on his rollerblades and also appears on video-on-demand, out-of-home sites as well as radio, in print and digital media, and with supporting social activations.
The majority of filming for the advert took place in an around Manchester with a selection of rural shots in the village of Castleton. The final scene shows one of Avanti West Coast's iconic Pendolinos crossing Twemlow Viaduct in Cheshire.
Kate Squires, Marketing Director, Avanti West Coast said: "We really want to inject a feel good vibe when people think about travelling with us. That's the purpose of this campaign.
"We're incredibly excited to bring people back on-board and shout about all of the great reasons why it's the best way to get around. This is the perfect way to do it.".
See the Feel Good Travel Advert here:
ENDS
Contact Information
Richard Stanton
Avanti West Coast
Notes to editors
About Avanti West Coast
Avanti West Coast, operator of intercity rail services on the West Coast Main Line, is a joint venture between FirstGroup and Trenitalia, delivering a cleaner, greener railway that drives the West Coast forward.
We're on a mission to revolutionise train travel, linking together the towns and major cities of the UK to create an iconic railway the country can be proud of. We've got big plans including a fleet of new intercity trains, as well as the complete refurbishment of the existing Pendolino train fleet. We will introduce more train services every week with new routes added, and a much-improved onboard service with enhanced free Wi-Fi, plug sockets, 25,000 brand new seats and improved catering. Since 8 December 2019, passengers have benefitted from improved passenger compensation, available for journeys delayed by just 15 minutes.
For the latest news, visit the Avanti West Coast Media Room: https://newsdesk.avantiwestcoast.co.uk/
Press Office: 0845 000 3333