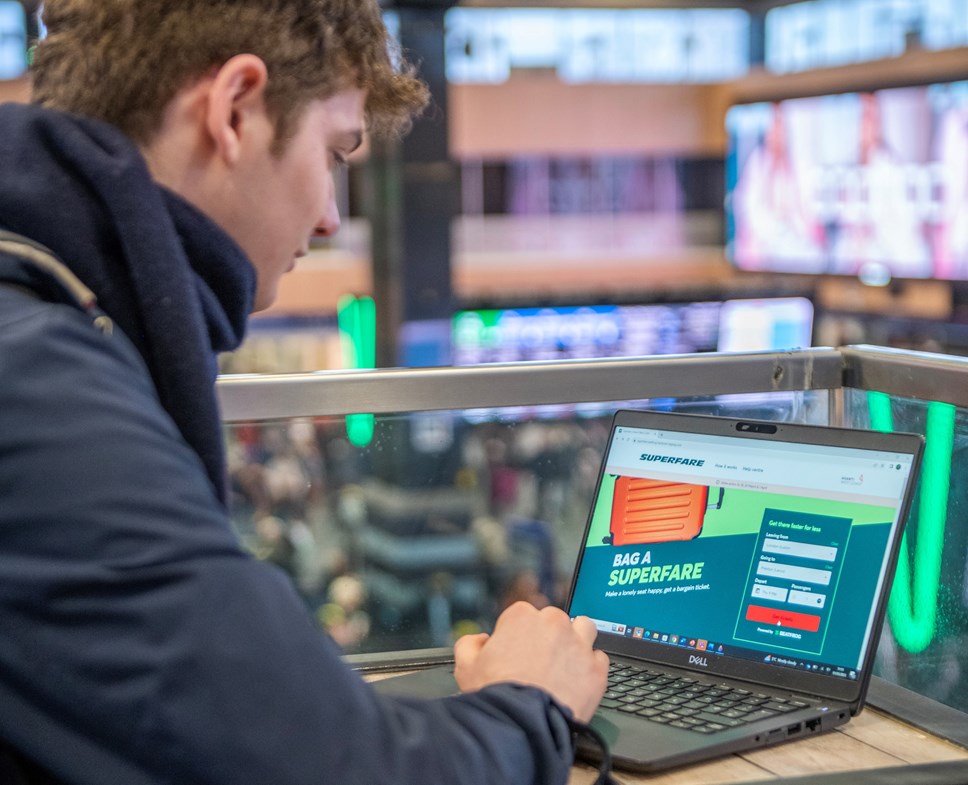 Avanti West Coast low cost Superfare ticket trial extended to more destinations
More destinations added as part of Avanti West Coast's trial of low cost Superfare tickets.
Ten more destinations in the North West added to the Superfare ticket range following successful trial
New fixed price fares aimed at customers with more flexibility start from £12 for a one-way ticket between London and Stafford
Avanti West Coast also partner with Seatfrog to offer lower priced Standard Premium tickets on its Liverpool route
Avanti West Coast has extended its low cost Superfare ticket to more locations following a successful initial trial.
Ten more destinations in the North West of England have been added to Avanti West Coast's innovative range of fares following the initial trial that has seen over 6,000 customers snap up bargains on the Liverpool, Birmingham, Manchester, Preston and Glasgow routes.
The Superfare ticket, which enables customers to book a journey for a specific date with the choice of morning, afternoon, or evening slots at a cheaper fare – with the exact time of travel being selected by the intercity operator – can now be purchased for journeys between London and Stafford, Stoke-on-Trent, Crewe, Macclesfield, Wilmslow, Stockport, Runcorn, Wigan North Western, Warrington Bank Quay and Lancaster.
With around 24 hours' notice, Avanti West Coast will match customers to an empty seat on a quieter train and advise them of their reservation details and train's departure time.
The new Superfare tickets will go on sale from 25 July 2023 for travel from 1 August 2023, with prices set at fixed amounts with one-way fares costing between £12 and £30 depending on the destination.
The number of tickets available on a route each day will vary and bookings can be made at least seven days and up to 21 days before travel.
Sarah Copley, Commercial Director at Avanti West Coast said: "Our customers have really taken to the new Superfare ticket. It's innovative, low cost and most importantly encouraging more people to take the train, so we're delighted to extend the Superfare ticket benefits to ten new destinations."
Of those surveyed, two thirds said they would have not travelled or would have travelled with a different mode of transport. With 93% saying they found it easy to book a Superfare ticket, and 88% said they would be likely to book another Superfare ticket in the future.
In a separate initiative Avanti West Coast is partnering with rail upgrade business Seatfrog to offer customers on its Liverpool route the chance to bid for Standard Premium upgrades for as little as £18, as opposed to the normal price of £25.
Standard Premium has also proved popular with customers since its launch in 2021, with over 1.5 million tickets sold. Customers benefit from roomier seats, greater space and a guaranteed table.
Customers with a valid Standard ticket can bid for the upgrade via the Seatfrog app, and if successful receive notification to their device prior to departure.
ENDS
Contact Information
Press Desk
Avanti West Coast
Notes to editors
Notes to Editors
Superfare tickets are a trial with 100,000 available until early 2024. They are available on an independent website: https://avantisuperfare.co.uk/
Below are the set prices:
New Fares
One-way between London and Stafford - £12
One-way between London and Stoke-on-Trent – £14
One-way between London and Macclesfield – £16
One-way between London and Stockport - £20
One-way between London and Wilmslow - £18
One-way between London and Crewe – £14
One-way between London and Runcorn - £15
One-way between London and Warrington Bank Quay – £15
One-way between London and Wigan North Western - £20
One-way between London and Lancaster – £25
Existing Fares
One-way between London and Birmingham - £12
One-way between London and Liverpool – £15
One-way between London and Manchester – £20
One-way between London and Preston – £22
One-way between London and Glasgow – £30
About Avanti West Coast
Avanti West Coast, operator of intercity rail services on the West Coast Main Line, is a joint venture between FirstGroup and Trenitalia, delivering a cleaner, greener railway that drives the West Coast forward.
We're on a mission to revolutionise train travel. Our refurbed Pendolinos are returning to the rails, with a £117m investment that's delivering best in class comfort. Rebuilt using sustainable materials wherever possible, including tables made from recycled plastic bottles, our upgraded fleet offers 25,000 brand new seats, free Wi-Fi, onboard recycling and much more.
New Hitachi trains are set to replace our Voyager trains from 2023, leading to a 61% cut in carbon emissions. Quieter and roomier, with more reliable Wi-Fi, wireless charging for electrical devices and a real-time customer information system, the new 23-strong fleet is the result of a £350m investment in sustainable travel.
We're tackling climate change wherever we can, from reducing energy and water use to training drivers in eco-driving techniques and sourcing food and drink from local suppliers. Our goal is to be net zero carbon by 2031. We're on track.
For the latest news, visit the Avanti West Coast Media Centre: https://newsdesk.avantiwestcoast.co.uk/
Press Office: 0845 000 3333