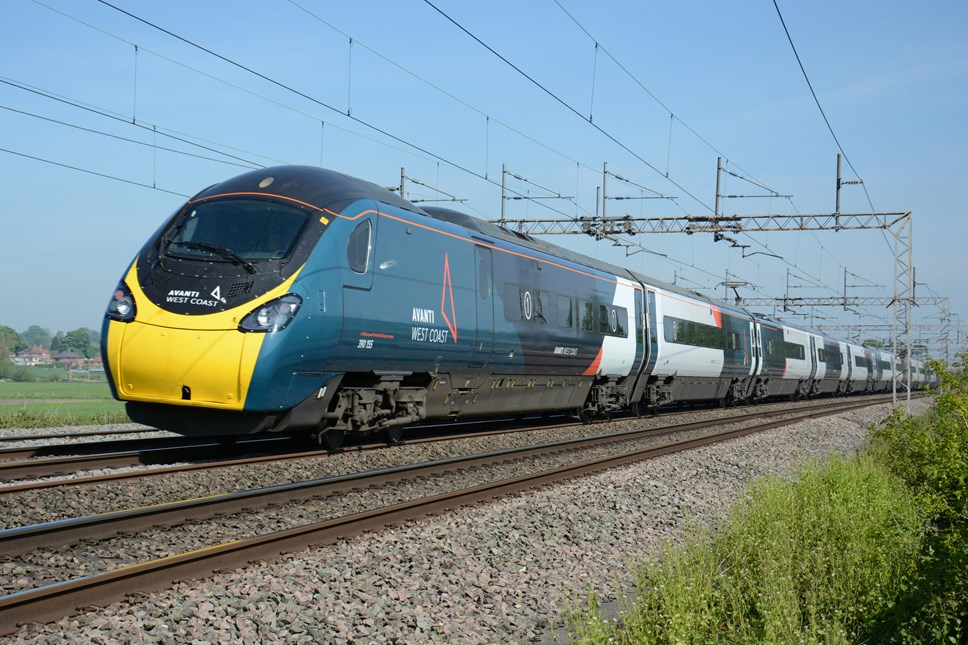 Avanti West Coast makes Friday an 'off peak' day
Avanti West Coast removes Friday morning peak restrictions in long distance fares trial
Move intended to give customers greater choice to aid social distancing and stimulate New Year return to travel
Avanti West Coast has removed Friday morning peak restrictions on long distance journeys to and from London Euston starting from today, 20 November.
The trial, which will run into the New Year, means customers can take advantage of the full range of Off Peak and Advance tickets throughout the day and make a much earlier start to their weekend.
The current Friday morning peak restrictions means customers with Off Peak tickets must wait until typically 09:30 before starting their journeys. For example, the first Off Peak train from Manchester to London is the 09:35 departure, which arrives in the Euston just before midday. Customers will now be able to travel on any train (from as early as 05:05) and make the most of their Fridays.
Customers who previously travelled in the morning peak on a Friday, with a fully flexible ticket, will save on average around 50% - 60%. For example, a customer will pay no more than £64.40 for a Standard single from Manchester to London (a saving of 64% on the current walk-up fare), and as little as £25 with the lowest priced Advance Fare (previously unavailable on peak time services).
Afternoon peak restrictions on a Friday were already removed and this move makes the entire day "off peak".
Sarah Copley, Executive Director, Commercial at Avanti West Coast said: "Removing the Friday morning restrictions gives customers more freedom to choose when they travel and when lockdown measures ease make the most of their extended weekends and days out.
"Just as importantly it allows us to spread demand and maintain social distancing onboard our services. This will help our customers who decide to travel, to travel with confidence."
David Sidebottom, Director, Transport Focus added: "Passengers will welcome this trial. Any move that helps save money and maintain social distancing should prove popular, and when the time is right, encourage more people to use rail services again."
Contact Information
Richard Stanton
Avanti West Coast
Notes to editors
Notes to Editors
Fares Savings

Standard Class

Arrival Times

Current Anytime Single

Off Peak Single

(The most a customer will now pay on a Friday)

Advance

Lead-in Fare

% Saving (Anytime Single vs Off Peak Single

New earliest arrival time into London

(current timetable Mon-Fri)

London – Bangor

£170.50

£72.00

£19.50

-58%

10:40

London - Birmingham

£92.00

£40.80

£8.50

-56%

07:05

London – Carlisle

£191.00

£89.60

£26.50

-53%

09:17

London - Chester

£151.50

£64.40

£19.50

-57%

09:39

London - Coventry

£83.00

£37.80

£7.50

-54%

07:05

London - Crewe

£138.50

£58.60

£16.00

-58%

07:26

London – Glasgow

£191.50

£105.70

£30.00

-45%

09:17

London - Liverpool

£167.00

£64.40

£17.50

-61%

07:50

London - Llandudno

£167.50

£68.90

£19.50

-59%

10:40

London - Macclesfield

£177.00

£62.70

£25.00

-65%

08:20

London - Manchester

£180.00

£64.40

£25.00

-64%

07:26

London - Preston

£184.50

£68.60

£24.50

-63%

08:07

London - Rugby

£73.00

£33.00

£6.50

-55%

07:05

London - Shrewsbury

£151.50

£55.90

£12.50

-63%

09:13

London - Stafford

£114.50

£48.60

£15.00

-58%

07:26

London - Stoke On Trent

£149.00

£53.10

£16.50

-64%

08:20

London - Warrington

£167.00

£64.40

£24.00

-61%

08:07

London - Wigan

£169.50

£64.40

£24.00

-62%

08:07

London - Wolverhampton

£92.00

£42.20

£8.50

-54%

07:05
About Avanti West Coast
Avanti West Coast, operator of intercity rail services on the West Coast Main Line, is a joint venture between FirstGroup and Trenitalia, delivering a cleaner, greener railway that drives the West Coast forward.
We're on a mission to revolutionise train travel, linking together the towns and major cities of the UK to create an iconic railway the country can be proud of. We've got big plans including a fleet of new intercity trains, as well as the complete refurbishment of the existing Pendolino train fleet. We will introduce more train services every week with new routes added, and a much-improved onboard service with enhanced free Wi-Fi, plug sockets, 25,000 brand new seats and improved catering. Since 8 December, passengers have benefitted from improved passenger compensation, available for journeys delayed by just 15 minutes.
For the latest news, visit the Avanti West Coast Media Room: https://newsdesk.avantiwestcoast.co.uk/
Press Office: 0845 000 3333