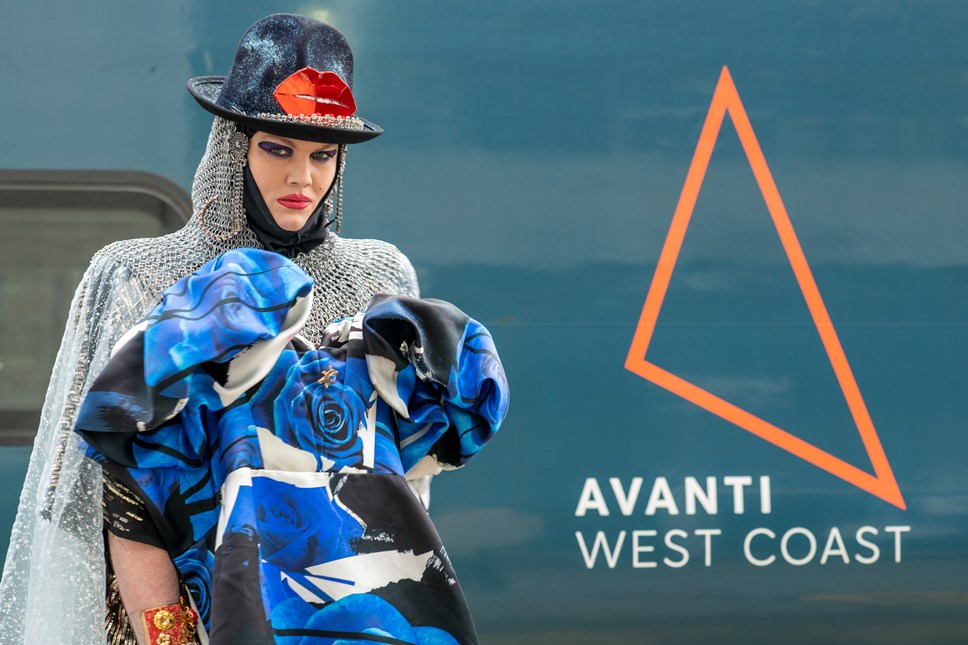 Avanti West Coast mark Coventry UK of Culture with critically acclaimed artist
Pendolino 'Lady Godiva' carries guests to the opening night of Daniel Lismore's eagerly awaited exhibition in Coventry.
West Coast Operator and Coventry based Daniel Lismore get behind UK City of Culture
Guests for the opening night of Daniel's exhibition travel to Coventry onboard Pendolino 'Lady Godiva'
Educational workshops planned as part of wider partnership over coming months
Avanti West Coast has teamed up with one of the UK's most acclaimed artists as part of its support for Coventry UK City of Culture.
The train operator joined forces with Daniel Lismore to help celebrate the opening of the artist's exhibition 'Be Yourself, Everyone Else is Already Taken'.
Guests for the opening night, including Turner Prize winners Gilbert and George were 'sent to Coventry', travelling to the home of UK City in Culture in First Class style onboard Pendolino 'Lady Godiva'.
The iconic Avanti West Coast tilting train was named as part of the Official Transport Partner of UK City of Culture's support for the year long celebration.
Born and bred in Coventry, Daniel specifically chose the town to his showcase of designs and creations at the Herbert Art Gallery and Museum over the coming months.
"It's great that Avanti are supportive of Coventry UK City of Culture and I'm excited to be working with them," enthused Daniel. "I do a lot of my best creative brainstorming on the train; it really is the best way to get to Coventry from London and further afield."
Nicola Ryder, Commercial Partnerships Manager for Avanti West Coast added: "Daniel is a fantastic role model and such a great ambassador for his home town.
"That's why we jumped at the chance to support his exhibition and its opening night. The excitement on the train coming up from London was palpable and we're looking forward to bringing more people to Coventry to experience Daniel's work."
Tickets for the free to attend exhibition, which runs until Sunday 26 June 2022, are available here. The venue is a short 15-minute walk from Coventry Station.
The exhibition is expected to welcome audiences from across the UK, with many taking advantage of the city's excellent transport links. With fast and frequent Avanti West Coast services from London, the North West and Scotland, Coventry 2021 is the most accessible UK City of Culture to date, with 75% of the UK population within two hours travel time.
Daniel is also working on some educational workshops with part of Avanti West Coast that will see him working on art projects with school children.
Pictured with Daniel on his visit to Coventry station are Avanti West Coast Welcome Hosts (l-r) Levi Willis and Samson Malloch.
Contact Information
Richard Stanton
Avanti West Coast
Notes to editors
About Avanti West Coast
Avanti West Coast, operator of intercity rail services on the West Coast Main Line, is a joint venture between FirstGroup and Trenitalia, delivering a cleaner, greener railway that drives the West Coast forward.
We're on a mission to revolutionise train travel, linking together the towns and major cities of the UK to create an iconic railway the country can be proud of. We've got big plans including a fleet of new intercity trains, as well as the complete refurbishment of the existing Pendolino train fleet. We will introduce more train services every week with new routes added, and a much-improved onboard service with enhanced free Wi-Fi, plug sockets, 25,000 brand new seats and improved catering. Since 8 December, passengers have benefitted from improved passenger compensation, available for journeys delayed by just 15 minutes.
For the latest news, visit the Avanti West Coast Media Room: https://newsdesk.avantiwestcoast.co.uk/
Press Office: 0845 000 3333
About Daniel Lismore
Daniel Lismore is a London and Coventry based artist; A Living Sculpture who creates elaborate, extravagant, three-dimensional tableaux of figurative sculptures crafted like tapestries; Each artwork is created from fragments of items previously worn by the artist, meshing history and futurism whilst reflecting the world in which he exists.
Lismore has long been an active campaigner for the recycling of clothes and in 2015 became the face of the H&M Close the Loop campaign to encourage the practice of recycling clothes. Since the Covid 19 pandemic, Lismore has been residing between Coventry and London working on LGBTQ+ activism and new art works. His show Be Yourself, Everyone Else is Already Taken opened in February 2022 in Coventry City UK Capital of Culture at the Herbert Art Gallery and Museum.