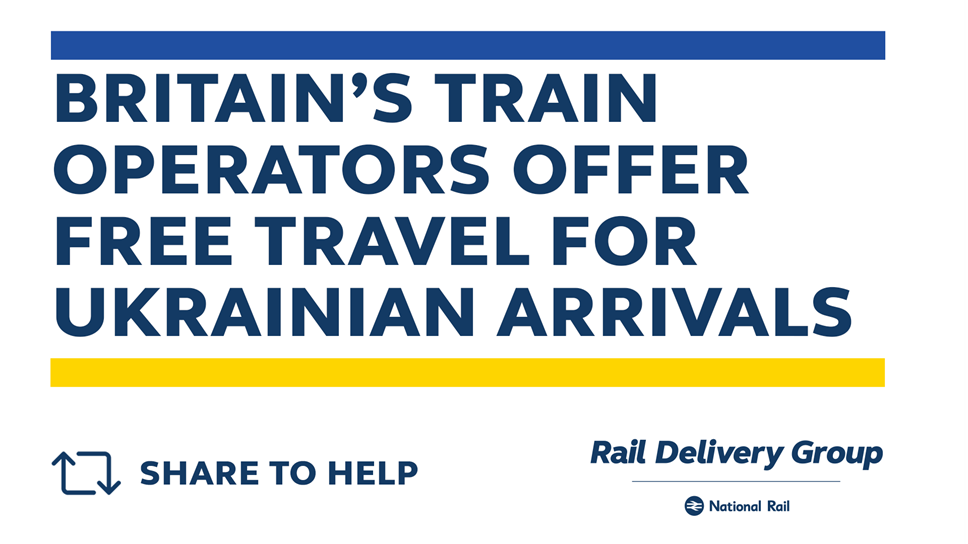 Avanti West Coast offers free travel for Ukrainian arrivals
To help Ukrainian nationals travelling to the UK, Avanti West Coast is joining other rail operators to offer free onward travel on its services.
Avanti West Coast provides free onward train travel for Ukrainians on arrival in the UK
Industry wide scheme to provide safe and free passage for Ukrainians
Scheme starts on 20 March complimenting Eurostar offer
Avanti West Coast, along with other train operators are working together to provide support to Ukrainian arrivals by offering free onward travel to their final destinations in Britain.
The industry wide scheme went live today, Sunday 20th March 2022, and complements offers made by the European railway family, to provide safe and free passage for Ukrainians.
To make sure the scheme is as simple as possible the Rail Delivery Group has worked across the industry and Government so that:
Ukrainian arrivals who have entered the UK will be able to travel for free on the national rail network by showing their Ukrainian passport and a boarding pass or ticket showing arrival into the UK
They will have 48 hours from arrival in the UK to complete their journey; and
The scheme applies to all train operators in Great Britain, and many bus and coach operators are also offering free onward travel to final destinations.
Transport Secretary Grant Shapps said: "We are working tirelessly to help Ukrainians travelling to Britain fleeing conflict.
"It is hugely welcome that the transport industry has come together to offer free rail, tram, bus and coach onward travel from any international port, airport or train station.
Phil Whittingham, Managing Director of Avanti West Coast, said: "The ongoing situation in Ukraine is heart breaking and many colleagues asked if we can support those refugees as they arrive in the UK by assisting them in some way to get to their destination. I am proud that we are part of this industry wide initiative which will give much needed help to those arriving here."
Jac Starr, Chief Executive Officer at the Rail Delivery Group, added: "We have all been shocked by the tragedy unfolding in Ukraine. As an industry we know this is the right thing to do, making sure families affected by this tragedy can be reunited as quickly as possible, and helping others get to safety.
"Similar schemes have been launched on the continent so I am proud that we are standing alongside our European Rail family and doing what we can to help."
Contact Information
Richard Stanton
Avanti West Coast
Notes to editors
NOTES TO EDITORS
About Avanti West Coast
Avanti West Coast, operator of intercity rail services on the West Coast Main Line, is a joint venture between FirstGroup and Trenitalia, delivering a cleaner, greener railway that drives the West Coast forward.
We're on a mission to revolutionise train travel, linking together the towns and major cities of the UK to create an iconic railway the country can be proud of. We've got big plans including a fleet of new intercity trains, as well as the complete refurbishment of the existing Pendolino train fleet. We will introduce more train services every week with new routes added, and a much-improved onboard service with enhanced free Wi-Fi, plug sockets, 25,000 brand new seats and improved catering. Since 8 December 2019, passengers have benefitted from improved passenger compensation, available for journeys delayed by just 15 minutes.
For the latest news, visit the Avanti West Coast Media Room: https://newsdesk.avantiwestcoast.co.uk/
Press Office: 0845 000 3333