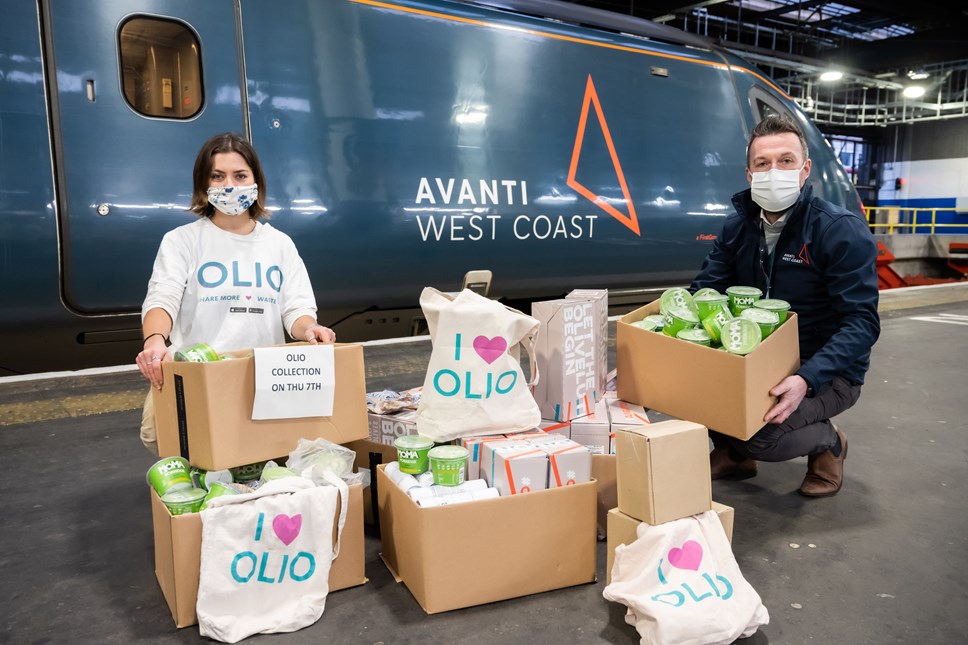 Avanti West Coast partners with charities and organisations to distribute surplus food
Avanti West Coast supports charities, food banks and organisations local to its route with donations of surplus food.
Charities, food banks and organisations help Avanti West Coast distribute food to those in need
Food and drink worth around £93,000 usually served onboard trains and at First Class Lounges donated
Donations help Avanti West Coast reduce environmental impact of food waste, while connecting communities to food
Avanti West Coast has partnered with charities and organisations along its route to distribute nearly £93,000 of surplus food to help local people in need.
Over the last year the inter-city operator has donated nearly 40 tonnes of food from onboard its trains and First Class Lounges that would have otherwise gone to waste.
Although the minimum amount of food is ordered for customers' needs, the changing travel patterns and lockdowns due to the COVID-19 pandemic left Avanti West Coast with extra as its services were only to be used for essential journeys. The train operator utilised its contacts along the route to give away the food responsibly and make a difference in the communities it serves.
Working with logistics leader DHL Supply Chain, which is responsible for loading refreshments onboard its trains, the long-distance operator joined up with charities, food banks and organisations local to its depots in London, Wolverhampton, Liverpool, Manchester, Preston and Glasgow to distribute the surplus food.
One of the main beneficiaries receiving a share of items including eggs, olives, crisps, fruit, sandwiches, soft drinks and porridge is OLIO – the free food sharing app that connects people in the community with food.
For the last 11 months OLIO's Food Waste Heroes – volunteers that pick up surplus food from businesses, list it on the OLIO app and allow neighbours to come and collect it for free – have been making daily collections from London Euston.
So far, OLIO has helped to share over £38,000 of the train operator's food – enabling people to utilise food and drink that would have otherwise gone to waste, as well as reducing the environmental impact of food waste - preventing 38,000kg of CO2 being released into the atmosphere (the equivalent to 130,000 car miles being taken off the road). The charity recently launched their new community of Food Waste Heroes in Glasgow, who have begun collections from Glasgow Central station.
Alongside its work with OLIO, Avanti West Coast has also worked with charity, FareShare, to get surplus food to communities who need it most through the crisis. So far, FareShare has redistributed 28 tonnes of surplus food from Avanti West Coast to hundreds of projects including school breakfast clubs, homeless shelters and food banks – enough food to create 67,688 meals for people who might not otherwise eat.
Rail Minister, Chris Heaton-Harris, said: "Our transport heroes have been at the front line of keeping the country moving and again are stepping up to make a real difference to those most at need.
"It is great to see Avanti West Coast take a significant step in helping those struggling in our communities and ensuring that their surplus food goes to a good cause."
Tessa Clarke, Co-founder & CEO at OLIO, said: "We're incredibly grateful to the Avanti West Coast team for donating their surplus food, and to our Food Waste Heroes who are collecting and redistributing it. At a time like this it's more important than ever that this delicious food is going to support local communities, where it is having such an enormous impact."
Lily Pearson, Account Manager of Avanti West Coast at OLIO, said: "Avanti West Coast kindly donating their unwanted food, are directly targeting food poverty and loneliness – two issues that have been made worse by the COVID-19 pandemic – by feeding those who need it and providing a connection between members of the local community."
Phil Whittingham, Managing Director at Avanti West Coast, said: "We work with producers across the UK who take pride in supplying our customers with good, quality food, so we don't want it to go to waste while our services are for those making essential journeys, which is why we're sharing our surplus food to help others.
"We're proud to be making a difference in the communities we serve by donating items of food and drink to charities, food banks and organisations, including OLIO, to support their work to help those who don't have enough, which is becoming increasingly important as we face the impact of COVID-19."
ENDS
Contact Information
Press Desk
Avanti West Coast
Notes to editors
OLIO Food Waste Hero case studies:
Orsi, who has volunteered as a Food Waste Hero for nearly a year, said: "I love the idea of saving surplus food and helping families, people who may be in a difficult situation, or people who don't want food to go to waste. It has been amazing to save so much food from Avanti West Coast and through one donation we managed to feed 23 families. I want to thank Avanti West Coast for helping the community around London by donating the food they are unable to serve and helping the environment at the same time."
Dee was introduced to OLIO through another Food Waste Hero who was sharing bread from a bakery via an app and encouraged Dee to become a Food Waste Hero herself. Dee said: "Food Waste Heroes are friendly, and we have built up a community amongst ourselves. Everyone seems to encourage each other, and I've been encouraging people to become Food Waste Heroes because there is so much food out there to share.
"I ended up with 178 boxes of eggs and I thought I was going to have to give quite a lot of eggs away to each person that requested but so many people requested that I ended up giving a dozen to each collector. The olives from Avanti West Coast's share were very popular.
"I'm amazed that businesses want to share food. It's a rather wonderful thing and I'm so glad Avanti West Coast are involved, and I would like to thank them for sharing with us."
During one collection from Avanti West Coast, Food Waste Heroes, Orsi and Dee each picked up hundreds of eggs to redistribute. They were amazed by the uptake of the eggs from their local community and how easily they were shared out – so many people requested them and were grateful to receive an item that had been difficult to find in shops.
Nabeel, who signed up as a Food Waste Hero in North London with his wife during the first lockdown, joined other volunteers to collect thousands of soft drinks and food items. Wondering how they were going to redistribute these great quantities of items, they utilised their connections at their local community centre, which doubled up as community kitchen in response to the COVID-19 pandemic, making 800 freshly prepared meals a day.
Speaking of his work to share Avanti West Coast's donations, Food Waste Hero, Nabeel, said: "As well as helping my local community centre, I used Avanti West Coast's donation to help develop my network of OLIO members within my local vicinity. These are just regular members of the public who use OLIO to rescue food for themselves and their families. It took me a couple of days to schedule, sort and distribute the remaining items to about 40 people who collected from my house.
"I have collected from Avanti West Coast on several occasions and have built up a rapport with their staff, who are always excellent with us Food Waste Heroes. They are always efficient, polite and cooperative."
Avanti West Coast has worked with the following charities local to its depots to distribute food:
London – OLIO; FareShare*
*The food redistributed through FareShare went to 11 of their 24+ depots across the UK: Aberdeen, Birmingham, Brighton, Chesterfield, Deptford, Hull, Leicester, Manchester, Preston, Southampton, and Speke.
Wolverhampton – Good Shepherd
Liverpool – Fans Supporting Foodbanks
Manchester – Heartly Green care home (part of Community Integrated Care); Back on Track Manchester
Preston – Luv Preston
Glasgow – The Marie Trust; OLIO
About OLIO
OLIO is a free app (mobile and web) that connects neighbours with each other and volunteers with local businesses, so surplus food can be shared, not thrown away. If you love food, hate waste, care about the environment or want to connect with your community, OLIO is for you.
Ultimately, OLIO's mission is to unlock the value of food that is wasted in the home and local community.
The way the app works is simple. Users snap a photo of their spare and add it to the app. Neighbours who live nearby receive customised alerts and can request anything that takes their fancy. All items are offered for free.
Food shared could be food nearing its sell-by date from local stores, spare home-grown vegetables, bread from the local baker, or the groceries in your fridge when you go away, move home or go on a diet. You can also share non-food items such as furniture, clothes, toys, household and beauty products.
OLIO has been used in over 58 countries and over 13 million portions of food shared. That's the equivalent of preventing 11,213,280kg of CO2 from entering the atmosphere and eliminating 38,125,152 car miles from the road.
OLIO also has a flourishing volunteer network – over 50,000 people have reached out to the organisation requesting to become volunteers, to promote food sharing locally and rescue and redistribute food in their communities via OLIO. https://olioex.com/
About Avanti West Coast
Avanti West Coast, operator of intercity rail services on the West Coast Main Line, is a joint venture between FirstGroup and Trenitalia, delivering a cleaner, greener railway that drives the West Coast forward.
We're on a mission to revolutionise train travel, linking together the towns and major cities of the UK to create an iconic railway the country can be proud of. We've got big plans including a fleet of new intercity trains, as well as the complete refurbishment of the existing Pendolino train fleet. We will introduce more train services every week with new routes added, and a much-improved onboard service with enhanced free Wi-Fi, plug sockets, 25,000 brand new seats and improved catering. Since 8 December, passengers have benefitted from improved passenger compensation, available for journeys delayed by just 15 minutes.
For the latest news, visit the Avanti West Coast Media Room: https://newsdesk.avantiwestcoast.co.uk/
Press Office: 0845 000 3333