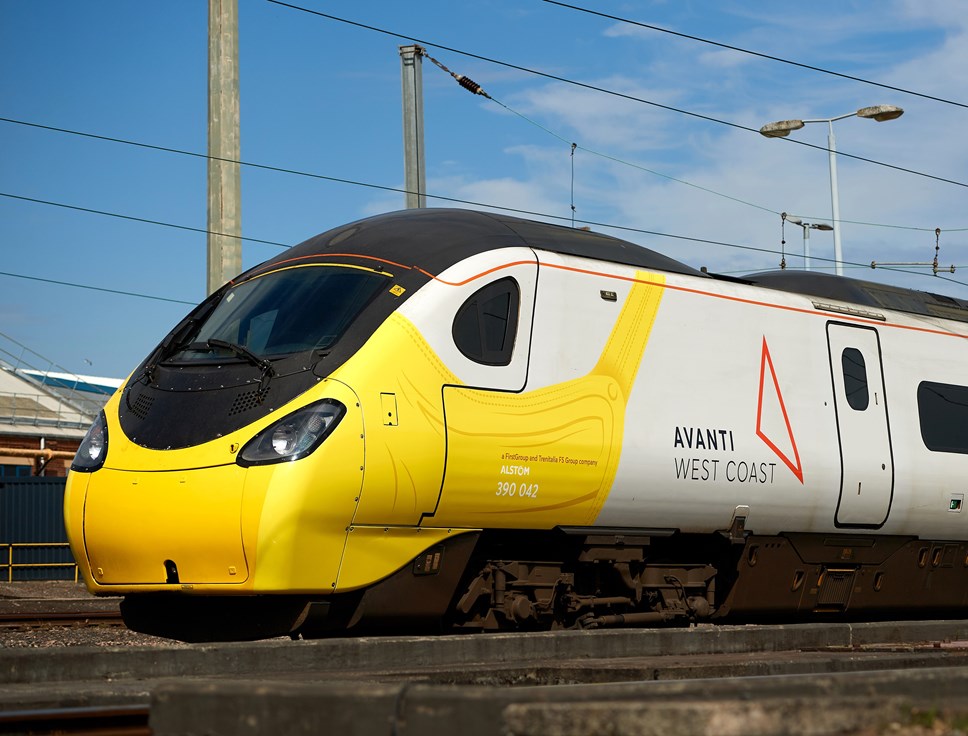 Pendolino wears a face covering to promote new guidance
Iconic Avanti West Coast train adorned with face covering to remind customers how to stay safe.
Face coverings on public transport become mandatory in England
Additional safety measures introduced such as long-lasting sanitiser
Customers asked to travel at quieter times if possible
Avanti West Coast has fitted its iconic Pendolino trains with face coverings to reinforce new Government rules.
From today (15 June), it will be mandatory for almost everyone to wear a face covering on public transport in England to help prevent the spread of coronavirus.
In Wales and Scotland, although not mandatory, face coverings are still strongly recommended while travelling on public transport.
To reinforce this, Avanti West Coast has wrapped the nose of two Pendolinos with a yellow face covering, along with a message on the side saying: 'Safe Travels. Wear a face covering.'
Some people may not be able to wear a face covering, for example children under 11, people with breathing difficulties and people whose disabilities make it difficult for them to wear a face covering.
The inter-city operator has already introduced a number of extra protective measures including a reservation system for its trains, encouraging customers to book online and asking them to avoid the busiest times so social distancing can be maintained.
One-way systems at stations have also been introduced and signage has been installed to help customers and employees keep their distance.
Here are some of the measures we're taking to keep you safe onboard and at stations.

Our enhanced cleaning includes a trial of Zoono, which is sprayed in carriages with a "fogging" machine. This long-lasting sanitising treatment kills 99.99% of viruses and bacteria on surfaces. pic.twitter.com/cOEos6Fyn1

— Avanti West Coast (@AvantiWestCoast) June 12, 2020
To further protect against COVID-19, Avanti West Coast is currently trialling a surface sanitiser onboard its Pendolino and Voyager fleets as part of an enhanced cleaning regime.
The powerful disinfectant, known as Zoono Z-71, is sprayed inside carriages and is designed to provide long lasting anti-viral protection.
Managing Director of Avanti West Coast, Phil Whittingham, said: "Nothing is more important than safety, so we've introduced these measures to give our customers confidence to travel with us.
"We also need our customers' help: please bring a face covering with you, buy your ticket in advance and avoid the busiest times if possible."
ENDS
Contact Information
Press Desk
Avanti West Coast
Notes to editors
About Avanti West Coast
Avanti West Coast, operator of intercity rail services on the West Coast Main Line, is a joint venture between FirstGroup and Trenitalia, delivering a cleaner, greener railway that drives the West Coast forward.
We're on a mission to revolutionise train travel, linking together the towns and major cities of the UK to create an iconic railway the country can be proud of. We've got big plans including a fleet of new intercity trains, as well as the complete refurbishment of the existing Pendolino train fleet. There will be 263 more train services every week by 2022 with new routes added, and a much-improved onboard service with enhanced free Wi-Fi, plug sockets, 25,000 brand new seats and improved catering. Since 8 December, passengers have benefitted from improved passenger compensation, available for journeys delayed by just 15 minutes.
For the latest news, visit the Avanti West Coast Media Room: https://newsdesk.avantiwestcoast.co.uk/
Press Office: 0845 000 3333