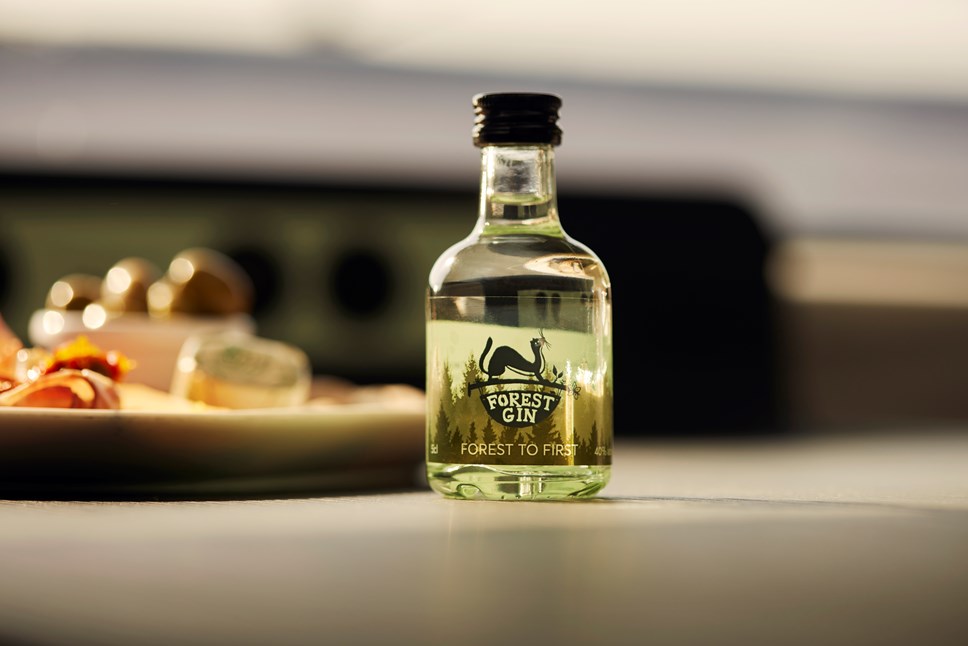 Avanti West Coast raises a glass to local produce with unique gin created by distillery
Avanti West Coast partners with a local distillery to create gin exclusively for its First Class Menu.
Partnership with Avanti West Coast and distillery sees creation of unique tipple
New drink produced using botanicals found local to West Coast Main Line
Gin exclusively available for customers travelling First Class on West Coast route
Avanti West Coast has launched a new gin in partnership with a family-owned distillery in Macclesfield exclusively for its First Class menu.
Working with The Forest Distillery – a 17th century barn in the Peak District National Park owned by husband-and-wife team Karl and Lindsay Bond - the intercity operator has created the drink called 'Forest to First'.
The collaboration is part of Avanti West Coast's commitment to offer a responsibly sourced menu – reducing its impact on the environment and showcasing products created in communities along its route.
Utilising the skills and expertise of Karl and Lindsay, who began home distilling tiny batches of spirits from their kitchen table, The Forest Distillery teamed up with the train operator to make an exclusive product that celebrates the region – from the selection of the ingredients to the design of the bottle.
Berries and botanicals foraged from Macclesfield Forest flavour the gin, which is distilled with water from the area's ancient natural spring.
In a nod to the forest, where the gin is distilled and its ingredients are found, the bottle design features a weasel which is a familiar sight in the local area.
Customers travelling in First Class on Avanti West Coast's route can enjoy the refreshing drink during their journey as part of the complimentary food and drink offering onboard.
Ahead of the gin's launch, two new roles were specially created at The Forest Distillery to support the production of the bespoke drink.
The distillery's award-winning Forest Gin is also available in the First Class Lounge at London Euston, where it is served from specially designed bottles handmade in Stoke-on-Trent by Wade Ceramics.
Philippa Creswell, Executive Director of Onboard at Avanti West Coast, said: "We want to champion small local producers as they're innovative and passionate about what they do. Working with producers in the communities we serve gives us an opportunity to showcase the brilliant produce and quality products nearby to our route, while supporting our commitment to reducing our carbon footprint. We're sure our customers will agree when they're sat back with a refreshing glass of Forest to First, enjoying the scenery at 125mph."
Karl Bond, Co-founder of Forest Distillery Ltd, said: "We are so proud to have been asked to distil this gin exclusively for Avanti West Coast customers. As a family business, it is incredible to see our products served within First Class. The team at Avanti West Coast have been lovely to work with, and the resulting gin in the bottle is of an exceptional standard."
ENDS
Contact Information
Laura Normansell
Avanti West Coast
Notes to editors
About The Forest Distillery
The Forest Distillery is a unique 17th century barn, nestled 1,200ft above sea level within the beautiful Macclesfield Forest in the Peak District National Park.
It is here that the Bond family and a small team of weasels daily distil spirits of the very highest quality. Having won multiple global awards, our spirits are recognised amongst the world's finest. We predominantly use organic and foraged ingredients where possible in our products, and all water used in the process comes from our own cool, clear natural spring.
Our goal is to make the best tasting gin & whisky that we possibly can, from the finest locally sourced ingredients where possible. We do as much as possible by hand – right down to the bottling.
We are VERY proud of our little distillery, and hope that you love it as much as we do.
https://theforestdistillery.com/
About Avanti West Coast
Avanti West Coast, operator of intercity rail services on the West Coast Main Line, is a joint venture between FirstGroup and Trenitalia, delivering a cleaner, greener railway that drives the West Coast forward.
We're on a mission to revolutionise train travel, linking together the towns and major cities of the UK to create an iconic railway the country can be proud of. We've got big plans including a fleet of new intercity trains, as well as the complete refurbishment of the existing Pendolino train fleet. We will introduce more train services every week with new routes added, and a much-improved onboard service with enhanced free Wi-Fi, plug sockets, 25,000 brand new seats and improved catering. Since 8 December 2019, passengers have benefitted from improved passenger compensation, available for journeys delayed by just 15 minutes.
For the latest news, visit the Avanti West Coast Media Room: https://newsdesk.avantiwestcoast.co.uk/
Press Office: 0845 000 3333