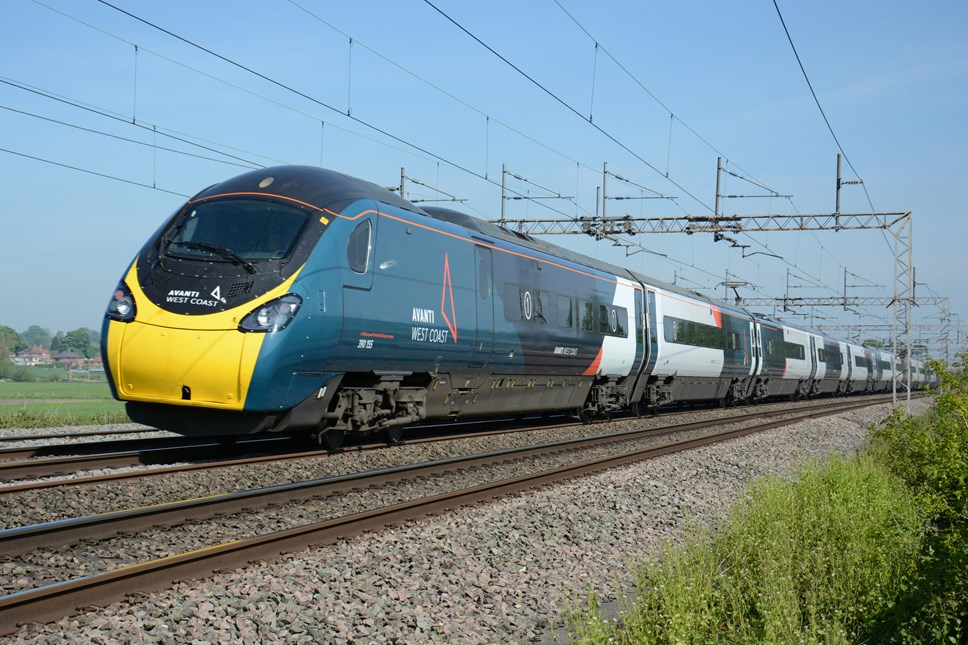 Avanti West Coast raises over £50,000 for children's charity
Avanti West Coast reaches £50,000 fundraising milestone with Action for Children, as its charity partnership comes to an end.
Avanti West Coast supports work of charity partner, Action for Children
£50,000 milestone reached by fundraising efforts from staff and customers
Funds help vulnerable children and young people on their journey to better mental health
Avanti West Coast has raised over £50,000 to support vulnerable children and young people across the UK, as part of its charity partnership with Action for Children.
Since December 2019, the intercity operator has raised money through employee and customer fundraising, corporate donations, and gift-in-kind support. This has enabled the charity to provide vital programmes aimed at young people who are struggling with their mental health and emotional wellbeing.
Avanti West Coast's fundraising drive for Action for Children was set up as part of a wider partnership with FirstGroup, which has generated £3.5m. The train operator's charitable efforts also included giving customers the option to donate their delay repay compensation to support young people on their journey to better mental health.
The donations have gone towards delivering mental health programmes that equip children and young people across the UK with the skills and the confidence to care for their wellbeing as well as get help when they need it. Funding also supported the delivery of Action for Children's Enrichment Fund, which provides exciting experiences that improve mental health and wellbeing for children and young people, particularly those who would otherwise miss out.
Joanna Buckley, Community Manager at Avanti West Coast, said: "We're proud to have reached this fundraising milestone for Action for Children and would like to thank our staff and customers for their kindness in helping us achieve it. The money raised has made a difference to young people and families in the communities we serve, which is has been more crucial than ever with the impact of the coronavirus pandemic."
Melanie Armstrong, Action for Children CEO, said: "Thanks to FirstGroup's partnership and a shared vision to support vulnerable children and young people across the UK on their journey to better mental health, Action for Children has been able to deliver essential life-changing services during a time when they are most needed. Despite all the challenges of coronavirus, the fundraising efforts have been truly impressive. As the partnership comes to an end, we would like to say how grateful we are for the passion and ongoing commitment to Action for Children shown by everyone across FirstGroup, which has enabled us to reach an incredible milestone of £3.5m."
The intercity operator's partnership with Action for Children came to an end on 31 March 2022, as FirstGroup takes the opportunity to review its charity approach and explore new ways to complement, support and enhance community investment programmes across its divisions.
ENDS
Contact Information
Laura Normansell
Avanti West Coast
Notes to editors
For more information about FirstGroup's partnership with Action for Children, visit: https://www.firstgroupplc.com/news-and-media/latest-news/2022/31032022.aspx
About Action for Children
Action for Children protects and supports vulnerable children and young people by providing practical and emotional care and support, ensuring their voices are heard and campaigning to bring lasting improvements to their lives. With 512 services across the UK, in schools and online, in 2020/21 we helped 604,885 children, young people and families. actionforchildren.org.uk.
About Avanti West Coast
Avanti West Coast, operator of intercity rail services on the West Coast Main Line, is a joint venture between FirstGroup and Trenitalia, delivering a cleaner, greener railway that drives the West Coast forward.
We're on a mission to revolutionise train travel, linking together the towns and major cities of the UK to create an iconic railway the country can be proud of. We've got big plans including a fleet of new intercity trains, as well as the complete refurbishment of the existing Pendolino train fleet. We will introduce more train services every week with new routes added, and a much-improved onboard service with enhanced free Wi-Fi, plug sockets, 25,000 brand new seats and improved catering. Since 8 December 2019, passengers have benefitted from improved passenger compensation, available for journeys delayed by just 15 minutes.
For the latest news, visit the Avanti West Coast Media Room: https://newsdesk.avantiwestcoast.co.uk/
Press Office: 0845 000 3333