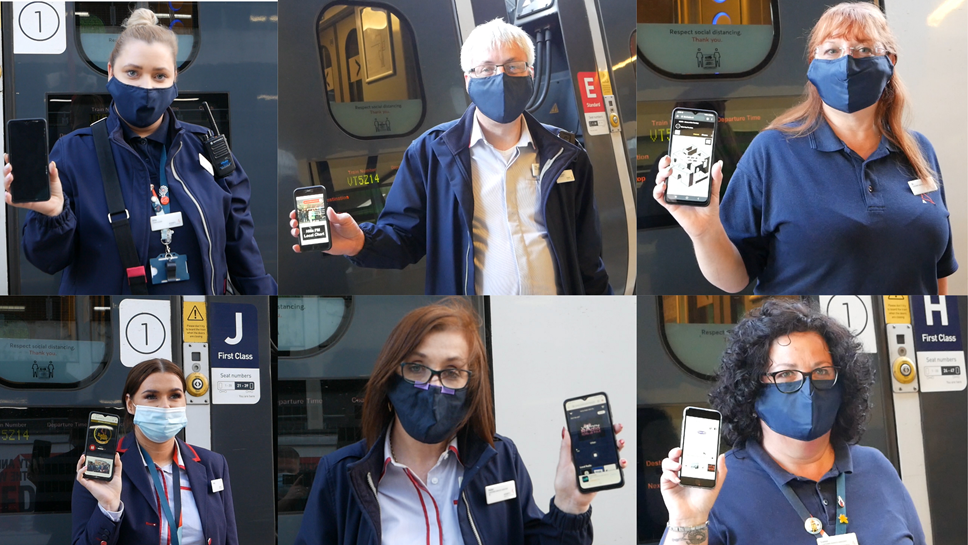 Avanti West Coast signs up for Coventry 2021
Coventry City of Culture 2021 welcome onboard Avanti West Coast as Transport Partner.
Avanti West Coast announced as Transport Partner for Coventry City of Culture
Thousands expected to travel to the city by train for year-long event
Station team at Coventry involved in the first major moment of the celebration
Avanti West Coast has been formally announced as an official Transport Partner of Coventry UK City of Culture 2021.
The 12-month showcase of the city promises a world-class programme of events and attractions, including staging the Turner Prize, delivering a world-premiere of a co-commission with the internationally-celebrated Royal Shakespeare Company, and the Assembly Festival Garden.
Kicking off proceedings last month was Coventry Moves, a day-long celebration which reached more than 200,000 people and culminated in a "moment" involving the entire city - including Avanti West Coast's station team.
The occasion saw people invited to turn on every possible audio device to premiere a specially commissioned piece of music called Coventry Moves Together, as local radio stations played different parts of the track at 8.21pm (20:21) to create a giant surround sound system.
Watch the team at Coventry Station participate in Coventry Moves:
"We're so proud to be partnering with Coventry UK City of Culture Trust," enthused Nicola Ryder, Commercial Partnerships Manager at Avanti West Coast. "It's a chance for the city to shine and we look forward to playing our small part in getting visitors to and from events in a sustainable way, and the undoubted boost this will bring to the West Midlands regional economy."
Martin Sutherland, Chief Executive of Coventry City of Culture Trust, said: "We are thrilled to be partnering with Avanti West Coast.
"We've had an incredible start to our year as UK City of Culture, which has attracted national and international attention. As restrictions ease, we can't wait to welcome people from across the country to Coventry to make the most of everything we have to offer, and we look forward to seeing visitors arriving by train thanks to Avanti West Coast."
The city is expected to welcome audiences from across the UK, with many taking advantage of its excellent transport links. With fast and frequent Avanti West Coast services from London, the North West and Scotland, Coventry 2021 will be the most accessible UK City of Culture to date, with 75% of the UK population within two hours travel time.
One of the West Coast operator's Pendolinos is named Lady Godiva, named back in 2019 to help fly the flag for the city.
Contact Information
Richard Stanton
Avanti West Coast
Notes to editors
About Avanti West Coast
Avanti West Coast, operator of intercity rail services on the West Coast Main Line, is a joint venture between FirstGroup and Trenitalia, delivering a cleaner, greener railway that drives the West Coast forward.
We're on a mission to revolutionise train travel, linking together the towns and major cities of the UK to create an iconic railway the country can be proud of. We've got big plans including a fleet of new intercity trains, as well as the complete refurbishment of the existing Pendolino train fleet. We will introduce more train services every week with new routes added, and a much-improved onboard service with enhanced free Wi-Fi, plug sockets, 25,000 brand new seats and improved catering. Since December 2019, passengers have benefitted from improved passenger compensation, available for journeys delayed by just 15 minutes.
For the latest news, visit the Avanti West Coast Media Room: https://newsdesk.avantiwestcoast.co.uk/
Press Office: 0845 000 3333