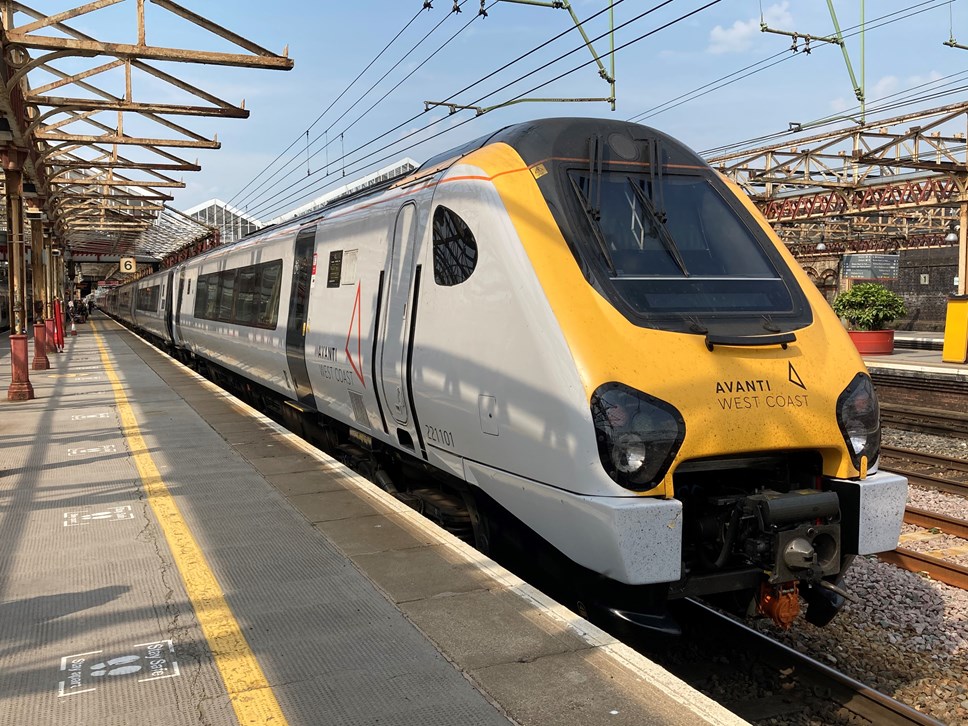 Avanti West Coast to run more services from September
Avanti West Coast restores a number of direct links to London as part of its September 7 timetable uplift.
Direct links to and from London restored for Shrewsbury, Wrexham, Chester and North Wales, Blackpool and Edinburgh
New timetable up to 90% of pre-COVID service levels
Customers reminded to book ahead and wear a face covering


Avanti West Coast will be restoring services to several destinations from Monday 7 September as part of changes to its timetable.
Shrewsbury, Wrexham, Blackpool and Edinburgh will all see the return of direct Avanti West Coast services to and from London for the first time since lockdown measures were enforced. North Wales will also be served by one train in each direction between Holyhead and Euston, supplemented by a shuttle service along the coast from Crewe. Chester will have three direct trains to London Euston.
In addition, the West Coast Main Line operator will continue to provide the additional early morning services between Milton Keynes to London that started in July and the late afternoon return services
The new timetable, with its 285 services (Monday to Friday), represents just over 90% of the normal pre-COVID levels.
An Avanti West Coast spokesperson said: "These additional services will mean more room for social distancing onboard. We would like to remind customers to book ahead, reserve their seat and wear a face covering whilst at the station and onboard our services."
Avanti West Coast has also reintroduced its First Class at-seat service on their Pendolino services, whilst increasing the range of items to purchase from the onboard shop.
Notes to Editors – Monday to Friday changes
Shropshire will be served by the 06:39 Shrewsbury to London Euston (with calls at Telford and Wellington, and the 18.23 return service from London Euston.
Blackpool North will have two direct services to and from London via the West Midlands, in addition to one early morning service from Birmingham and a late evening service back to the West Midlands.
Edinburgh Waverley and Haymarket will have seven services to London Euston (six in the return direction), which will also restore direct links between the Scottish capital and the West Midlands.
Wrexham's direct service to London Euston will depart at 07:03, returning at 17:10.
A direct service from North Wales to London Euston will depart Holyhead at 06:55, returning north at 17:10.
Chester's three services for London will depart at 07:35, 08:35 and 14:35 respectively.
Contact Information
Richard Stanton
Avanti West Coast