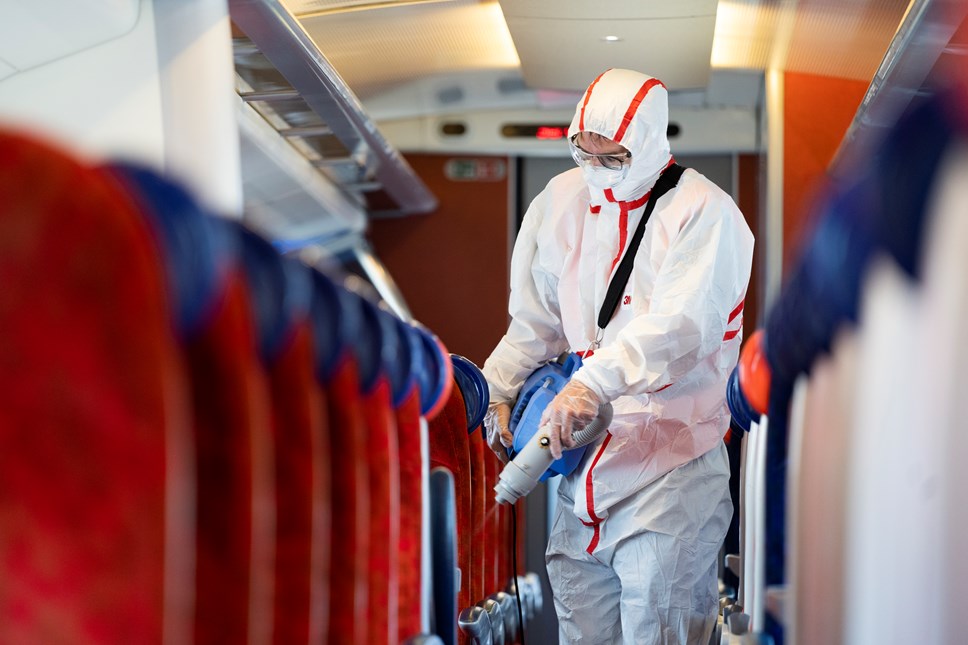 Avanti West Coast trials powerful sanitiser to protect customers and employees
Sanitiser trialled onboard as part of extra protective measures.
Powerful sanitiser being used on Avanti West Coast's fleet
Zoono is effective for extended periods of time after being applied on surfaces
Scientifically proven to be highly effective against a broad spectrum of bacteria and viruses
A powerful, long-lasting sanitising treatment, which provides protection against viruses and bacteria on surfaces is being trialled on trains operated by Avanti West Coast.
With a potential increase in passenger numbers following the easing of lockdown measures, the inter-city operator has been testing Zoono Z-71 inside the carriage of its Pendolino and Super Voyager fleets.
The disinfectant uses no alcohol and is scientifically proven to be highly effective against viruses and bacteria. It lasts for an extended period of time and is reapplied on a monthly basis.
It is being sprayed in carriages using a "fogging" or misting machine and is the latest addition to Avanti West Coast's already increased safety procedures.
These include enhanced cleaning routines onboard trains and at stations with a focus on all high touch point areas such as door buttons, grab handles, tables, and equipment.
Last month Avanti West Coast introduced limited capacity on its trains, encouraging customers to reserve a space before they travel to ensure social distancing.
Gus Dunster, Executive Director of Operations at Avanti West Coast, said: "Keeping our customers and people safe is always our highest priority. This sanitiser is another addition to help safeguard their journeys.
"Our customers should try to travel at quieter times to make social distancing easier, and there's advice around this on our website.
"It's also important that customers follow the latest government guidance and wear a face covering on public transport, as well as taking other steps such as buying tickets through the app."
ENDS
Contact Information
Press Desk
Avanti West Coast
Notes to editors
About Avanti West Coast
Avanti West Coast, operator of intercity rail services on the West Coast Main Line, is a joint venture between FirstGroup and Trenitalia, delivering a cleaner, greener railway that drives the West Coast forward.
We're on a mission to revolutionise train travel, linking together the towns and major cities of the UK to create an iconic railway the country can be proud of. We've got big plans including a fleet of new intercity trains, as well as the complete refurbishment of the existing Pendolino train fleet. There will be 263 more train services every week by 2022 with new routes added, and a much-improved onboard service with enhanced free Wi-Fi, plug sockets, 25,000 brand new seats and improved catering. Since 8 December, passengers have benefitted from improved passenger compensation, available for journeys delayed by just 15 minutes.
For the latest news, visit the Avanti West Coast Media Room: https://newsdesk.avantiwestcoast.co.uk/
Press Office: 0845 000 3333