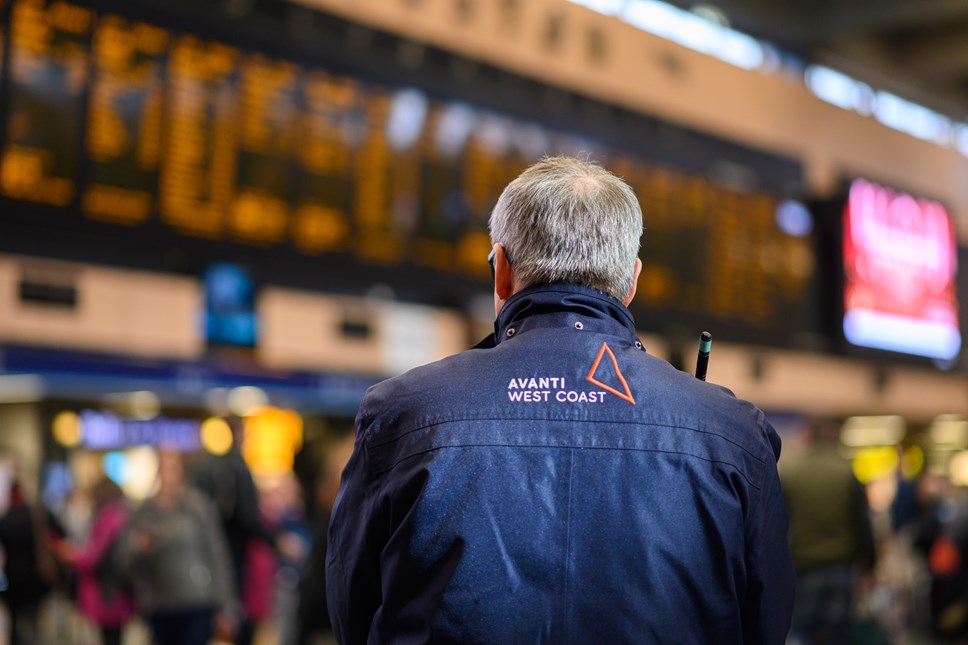 Updates: Avanti West Coast upgrades its customer message to "do not to travel" as heat intensifies
Avanti West Coast joins Network Rail in advising customers not to travel as temperatures rise.
Network Rail and Avanti West Coast urges customers to not travel on key routes to London Euston
Customers able to do so can use tickets to travel later in the week or claim a full refund
Update - 17:00hrs
Services are expected to be impacted tomorrow (Wednesday 20 July) due to the disruption as a result of today's weather conditions. Please check your journey before coming to the station.
Update - 15:30hrs
Extreme Heat: All services stopped. Do not come to the station.
Due to the extreme heat causing multiple incidents across the network all Avanti West Coast services have now been withdrawn for the rest of today, Tuesday 19 July.
Customers with tickets for today can use them tomorrow (20 July) or Thursday (21 July) , or claim a refund.
Update - 14:00hrs
Due to the extreme temperatures on Tuesday 19 July, multiple heat-related issues on the rail network and the associated health risks, we ask customers not to travel for the remainder of today. All services to and from London Euston currently suspended due to a line side fire near Harrow.
Update - 09:00hrs Tuesday, 19 July
Avanti West Coast is advising customers to do not to travel on its key routes to and from London Euston as temperatures in the United Kingdom reach record highs.
Train operators and Network Rail have upgraded their travel advice to 'DO NOT TRAVEL' for the area covered by the Met Offices' red weather warning. This includes the routes from London to the West Midlands, Liverpool, Manchester and Scotland.
For those who have to travel, the West Coast Operator will be running an amended service into and out of London Euston today (19 July) similar to the limited service it ran yesterday (18 July). Customers are strongly advised to check before leaving for the station.
Customers with tickets for Avanti West Coast services dated Monday 18 July and Tuesday 19 July who chose not to travel are entitled to a full refund via their point of purchase.
Alternatively, their tickets will be valid for travel on Wednesday 20 or Thursday 21 July, when a near normal service is expected to resume.
Sarah Copley, Executive Director Commercial at Avanti West Coast said: "As a result of the extreme heat weather warning, we are operating an amended timetable on Monday 18 July and on Tuesday 19 July with fewer services and extended journey times. Customers are being advised do not travel.
"All other journeys should only be taken if absolutely necessary. If you do have to use our services then please be aware this could take longer than expected, bring plenty of water and check before you travel."
Network Rail have imposed a number of temporary speed restrictions on the West Coast route on Monday 18 July and Tuesday 19 July. This affects all operators running trains to and from London Euston, mitigating against the potential impact of the heat on both the track and overhead wires. As a result, Avanti West Coast trains have to run at much reduced speeds, extending journey times and limiting the number of services we can run.
Jake Kelly, Network Rail's operations director, said: "We have not taken the decision lightly to upgrade our travel advice to 'do not travel' if heading north out of London today. Any journey today within the Met Office's 'red-zone' is going to be long, disrupted and uncomfortable so, with free refunds or ticket swaps available, our best advice is to stay home and replan your journey. Do not try to travel by rail within the 'red-zone' today."
Contact Information
Press Desk
Avanti West Coast
Notes to editors
Amended Timetable
From 10:00 on Monday 18 July and Tuesday 19 July Avanti West Coast's timetable will be reduced to four trains per hour to and from London Euston for the rest of the day. We will operate an hourly service on the following routes:
London Euston to Birmingham
London Euston to Manchester (via Stoke)
London Euston to Liverpool
London Euston to Glasgow
Extra stops will be added to these services to aid connectivity. These will be supported by:
An hourly Wolverhampton to Preston service extended to Blackpool and Edinburgh in alternative hours.
A shuttle service between Holyhead and Crewe.
About Avanti West Coast
Avanti West Coast, operator of intercity rail services on the West Coast Main Line, is a joint venture between FirstGroup and Trenitalia, delivering a cleaner, greener railway that drives the West Coast forward.
We're on a mission to revolutionise train travel, linking together the towns and major cities of the UK to create an iconic railway the country can be proud of. We've got big plans including a fleet of new intercity trains, as well as the complete refurbishment of the existing Pendolino train fleet. We will introduce more train services every week with new routes added, and a much-improved onboard