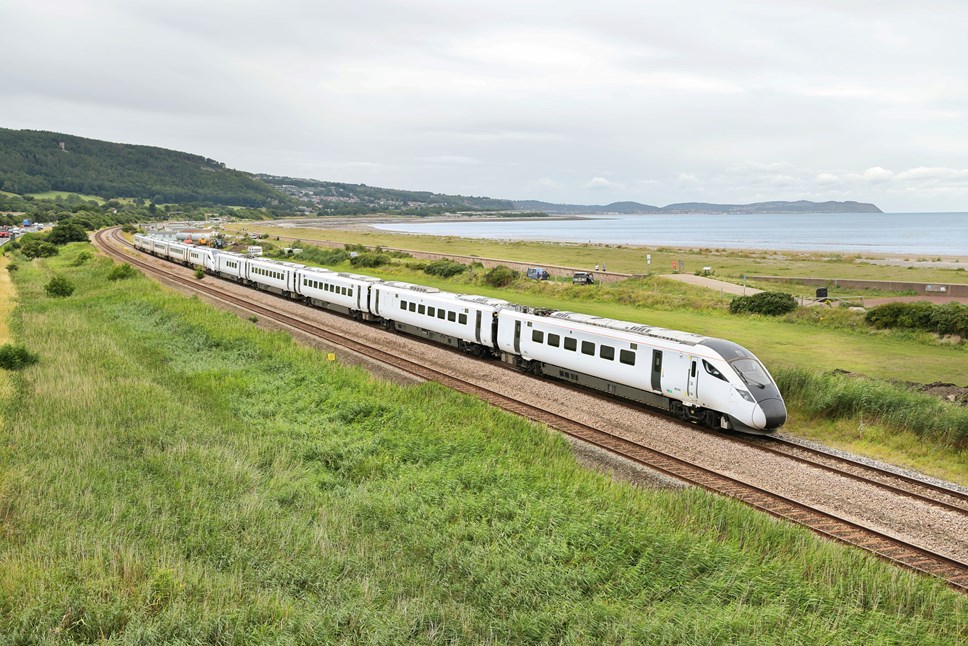 Avanti West Coast's new Hitachi train makes first test run to Chester and North Wales
Avanti West Coast's new fleet marked a major milestone yesterday with its first journey to Chester and North Wales.
New Avanti West Coast bi-mode train makes first successful test run to Llandudno Junction
Inaugural journey marks the start of a comprehensive test programme in Wales
Fleet on course to enter service across Avanti West Coast network from 2023.
Avanti West Coast's new Hitachi-made fleet marked another major milestone yesterday with its first journey to North Wales as part of its rigorous test programme.
Two Class 805 bi-mode trains – capable of running on both electric and diesel power -travelled from the West Midlands to Llandudno Junction, with stops at Chester and Rhyl, before heading back to its depot.
This first stage of testing is being undertaken by Hitachi Rail to ensure the sets work to the best of their ability before being handed over to Avanti West Coast to operate them.
Further trips to Chester and North Wales are planned as the engineers check the fleet's compatibility with the route and its whole infrastructure, including to the port terminus of Caergybi/Holyhead.
Part of yesterday's testing was to ensure the bilingual Passenger Information Systems are displaying the correct information. Avanti West Coast provides on-board passenger information in Welsh and English throughout the journey to and from London.
The new trains are expected to enter service across Avanti West Coast network from 2023. These sets will eventually replace the Voyager trains, lowering the amount of diesel used by only utilising the fuel when there are no overhead wires to supply electricity.
The £350m project will deliver a fleet of ten seven-carriage electric trains and 13 five-carriage bi-mode trains, with the ability to switch seamlessly between electric and diesel power. The electric trains (Class 807) will operate between London, the West Midlands and Liverpool while the bi-mode version (Class 805) will be focused on the London to North Wales route.
Phil Cameron, Commercial Projects Director at First Rail said: "Yesterday marked a major milestone for the new fleet with its first test run to Llandudno Junction. This will help provide vital information on the route, and the fleet's performance, to ensure the new trains are fully prepared for when they enter into service next year.
"Our investment in the new fleet will help raise the bar for rail travellers in North Wales and is part of our wider commitment to transform the customer experience and a more sustainable operation."
Ends
Contact Information
Chris Penn
Notes to editors
About Avanti West Coast
Avanti West Coast, operator of intercity rail services on the West Coast Main Line, is a joint venture between FirstGroup and Trenitalia, delivering a cleaner, greener railway that drives the West Coast forward.
We're on a mission to revolutionise train travel. Our refurbed Pendolinos are returning to the rails, with a £117m investment that's delivering best in class comfort. Rebuilt using sustainable materials wherever possible, including tables made from recycled plastic bottles, our upgraded fleet offers 25,000 brand new seats, free Wi-Fi, onboard recycling and much more.
New Hitachi trains are set to replace our Voyager trains from 2023, leading to a 61% cut in carbon emissions. Quieter and roomier, with more reliable Wi-Fi, wireless charging for electrical devices and a real-time customer information system, the new 23-strong fleet is the result of a £350m investment in sustainable travel.
We're tackling climate change wherever we can, from reducing energy and water use to training drivers in eco-driving techniques and sourcing food and drink from local suppliers. Our goal is to be net zero carbon by 2031. We're on track.
For the latest news, visit the Avanti West Coast Media Centre: https://newsdesk.avantiwestcoast.co.uk/
Press Office: 0845 000 3333