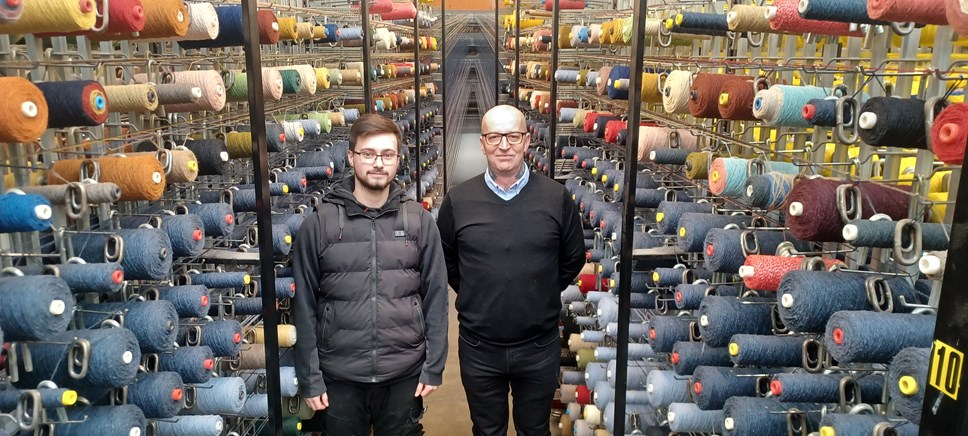 Axminster Carpets deliver sustainable floor coverings for refurbished Pendolino fleet
Avanti West Coast's partnership with world renowned Axminster Carpets helps transform the interior of their iconic Pendolino trains.
Sustainable woollen carpeting integral to the interior transformation of the Avanti West Coast's iconic Pendolino
Investment in Devon based SME helps secure skilled jobs and boost to local economy
Bespoke design helps deliver improved travel experience for wheelchair users


As work on the largest ever rail passenger fleet upgrade approaches the halfway mark, Avanti West Coast has highlighted the importance of sustainability in the choice of the new Pendolino interior as part of its £117m refurbishment.
World renowned manufacturer, Axminster Carpets have been enlisted by the intercity operator to help transform the iconic tilting train's appearance. In a two year contract, worth over £1.5m, it has helped the Devon based company secure jobs and preserve vital weaving skill sets amongst the 40 strong workforce.
As it marks its own Sustainability Week, Avanti West Coast has highlighted the wide range of benefits to using wool.
Renewable and biodegradable, woollen carpets naturally absorb humidity and Volatile Organic Compounds (VOCs) to improve air quality. As an insulator, wool also absorbs sound, helping to reduce noise. It also retains heat and releases it slowly – helping to regulate onboard temperature and reduce heating costs.
"We wanted a flooring solution that was both sustainable and helped to improve our customers' travelling experience," explained Steve Wightwick, Head of Fleet Transition at Avanti West Coast.
"Wool is one of the most eco-friendly fibres available. It's 100% sustainable and 100% renewable, with very little environmental impact throughout its production process. It is also durable and capable of standing up to the rigours of Pendolino operation, widely regarded as the hardest working fleet in the UK."
With upwards of a 10-year life span, Axminster's policy of sourcing UK materials, also helps to greatly reduce the environmental impact when compared to other synthetic surfaces.
With over 5.6 million tufts of yarn in one carriage, each overseen by eye as part of the quality control, the entire fleet of 56 trains requires over 20,000 square metres of carpet – using the wool of more than 30,000 sheep. This is enough to cover 86 football pitches. Or laid end to end, over five and a half miles of carpet, the equivalent of 94 Big Bens.
In addition, the carpets in three carriages of each train have a bespoke design to help better identify the designated areas for passengers with restricted mobility (PRM).
"We spoke at length to our Accessibility Panel when drawing up the specification for the Pendolino's refurbishment," explained Brandon Peat, Accessibility and Inclusion Manager at Avanti West Coast.
"High up on their list was the need preserve the wheelchair spaces. Doing that in such a visual way with a bespoke design in the carpet has really made a difference, reducing the incidences of luggage being placed in those areas and the difficulties that presents to wheelchair users."
Overseeing the operation is Axminster Carpet's Production Director, Barry Searle.
He said: "There's nothing more we like than a challenge. It's the first time we've built into a weave a bespoke PRM design. Its where art meets engineering and we're pleased it's had such a big impact."
"And thanks to wool's natural qualities, it will maintain its appearance and performance, to keep the Pendolino carriages looking pristine for longer, and minimise maintenance costs."
Axminster Carpets provided the floor coverings for Pendolino fleet when new. Twenty years on the carpets have stood the test of time. the You can find out more from Barry and the team here.
Within Barry's team is Trainee Weaver Ethan Huxford. Coming from a family of weavers, he follows in his grandfather and father's footsteps.
"It's incredible to think that our carpets will be seen by millions of customers each year, clocking up over a quarter of a million miles each year on the West Coast Main Line," enthused Ethan.
ENDS
Contact Information
Richard Stanton
Avanti West Coast
Notes to editors
About Avanti West Coast
Avanti West Coast, operator of intercity rail services on the West Coast Main Line, is a joint venture between FirstGroup and Trenitalia, delivering a cleaner, greener railway that drives the West Coast forward.
We're on a mission to revolutionise train travel. Our refurbed Pendolinos are returning to the rails, with a £117m investment that's delivering best in class comfort. Rebuilt using sustainable materials wherever possible, including tables made from recycled plastic bottles, our upgraded fleet offers 25,000 brand new seats, free Wi-Fi, onboard recycling and much more.
New Hitachi trains are set to replace our Voyager trains from 2023, leading to a 61% cut in carbon emissions. Quieter and roomier, with more reliable Wi-Fi, wireless charging for electric devices and a real-time customer information system, the new 23-strong fleet is the result of a £350m investment in sustainable travel.
We're tackling climate change wherever we can, from reducing energy and water use to training drivers in eco-driving techniques and sourcing food and drink from local suppliers. Our goal is to be net zero carbon by 2031. We're on track.
For the latest news, visit the Avanti West Coast Media Room: https://newsdesk.avantiwestcoast.co.uk/
Press Office: 0845 000 3333
About Axminster Carpets
Britain's best known and most prestigious carpet designer and manufacturer, Axminster have been manufacturing the world's finest carpets, of the highest possible standard for over 250 years.
Founded in 1755, by Thomas Whitty, Axminster has become synonymous with quality, craftsmanship and the invention of the modern-day woven carpet, the Axminster Weave.
With over 20 years of experience in supplying the rail industry, Axminster Carpets are proud to be the largest supplier of sustainable, woven rail carpet with the longest life cycle in the UK.
Website: https://www.axminster-carpets.co.uk/
Telephone: 01297 32244
Enquiries: marketing@axminster-carpets.co.uk