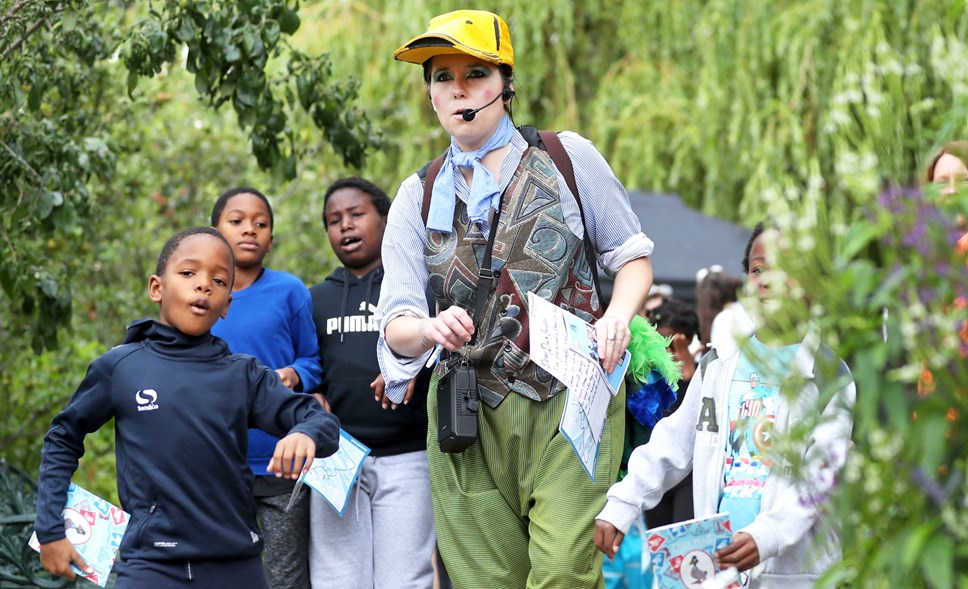 Children go quackers for Stoke-on-Trent story trail
Avanti West Coast helps bring to life a story trail in Stoke-on-Trent to encourage children to read for pleasure.
Avanti West Coast supports Stoke-on-Trent story trail to get children reading
Literacy initiative gives families free interactive activity to encourage reading for pleasure and inspire sustainable adventure
Specially created story booklet championing city's heritage and landscape brought to life with unique event
Avanti West Coast has helped bring to life a specially created story trail as part of a project that aims to get children in Stoke-on-Trent reading.
The intercity operator teamed up with North Staffordshire Community Rail Partnership, the National Literacy Trust in Stoke (a charity giving children and young people the literacy skills they need to succeed in life) and B Arts (a participatory arts organisation) to stage live performances on the streets of Stoke-on-Trent, as well as activities at Stoke Library for a one-off event.
Based on Duck Bills' Great Railway Adventure Story Quest – written and illustrated by local artist, Kidda Kinsey – the experience takes participants for a waddle around the Staffordshire city. Families follow in the footsteps of the book's main character, Duck Bills, who likes to go on adventures by rail and write to his younger brother, Duck Small, about them.
The self-guided trail also offers primary school children and their families the opportunity to complete challenges and discover fun facts about Stoke and its railway station – using a specially-designed map and information in the book.
To offer something unique for the school holidays, actors from B Arts gave children the chance to meet and engage with the book's characters and historical people from the region along the trail's route from Stoke Library to Stoke-on-Trent railway station.
Partners hosted a range of activities at Stoke Library including storytelling sessions, illustration workshops, pebble painting, and badge-making as part of the event to bring Duck Bills' Great Railway Adventure to life.
Specially created for Story Quest – a project by the National Literacy Trust in Stoke that encourages families in the region to take part in free story trails around their neighbourhood – the book celebrates the city's heritage and railway and hopes to inspire people to make sustainable adventures by train.
The community initiative has been delivered by funding from Avanti West Coast's Customer and Communities Investment Scheme (a funding pot that supports projects that tackle social needs), as well as Community Rail Network, Department for Transport and Historic England.
Joanna Buckley, Community Manager at Avanti West Coast, said: "We loved playing our part in bringing Duck Bills' Great Railway Adventure to life with this unique event, as we want to connect young people to opportunity – giving them a chance to experience something they wouldn't ordinarily.
"The trail gives families, schools, and the community access to materials to help children read, take pride in their local area, and experience something new. We're proud to have worked with local people and organisations to deliver this initiative to champion Stoke-on-Trent's heritage and landscape, and hope it inspires young people and their families to explore places using sustainable modes of transport."
Emma McIntosh, Community Rail Partnership Officer with North Staffordshire CRP, said: "The story trail offers a great opportunity to share some of the history of Stoke town and the railway with children in a way that really engages them and opens up opportunities for conversations about local heritage and travel by train. Working with partners to bring Duck Bills and the story trail to life has been a fantastic continuation of this project and we've loved seeing the children's enthusiasm interacting with the characters and participating in train themed activities."
Lois Bateman, Hub Manager for the National Literacy Trust in Stoke, said: "We are so pleased to have brought Story Quest to life around our wonderful library and railway station. Our Story Quest programme encourages children and their families to see reading in a new light by exploring their community spaces and getting active. We know how important this is: by nurturing these positive interactions with literacy-based activity, we can help children develop the skills they need to succeed in life."
Rebecca Frankenberg, Senior Creative Producer at B arts, said: "There is something magical about train travel, of setting off on a shared adventure. We wanted to capture that feeling of being on an adventure and also imagine what it would be like to really meet different people from Stoke's past and to have a small taste of what life was like. It was a real privilege (and a lot of fun) to create a live version of this trail mixing performance and hands on activities like having a go at slip decorating with the Spode paintress we met from 1923, sampling biscuits saved from the fire at Stoke Market in 1982 and, of course, joining in the celebration of the opening of Stoke railway station in 1948! It was brilliant to see the children (and the adults) having such a good time."
Families can follow the self-guided trail at any time. To encourage reading over the summer, children who write a letter to Duck Small after completing the trail and submit it at Stoke Library or to northstaffscrp@stoke.gov.uk by 8 September 2023 will be entered into a prize draw to win a Family & Friends Railcard and bundle of books.
ENDS
Contact Information
Laura Normansell
Avanti West Coast
Notes to editors
Main image: Children enjoy story trail around Stoke-on-Trent accompanied by characters from Duck Bills' Great Railway Adventure.
Copies of the trail are available at any Stoke-on-Trent library, from Stoke-on-Trent railway station or can be downloaded from: Duck Bills' Great Railway Adventure | National Literacy Trust
About North Staffordshire Community Rail Partnership
North Staffs Community Rail Partnership (NSCRP) is a partnership of train operators, local authorities and station volunteers who work together to improve station environments and link rail stations with their communities. Our volunteers help us to better connect with local people to make the railway more relevant to them.
NSCRP likes to work with schools and community groups on projects that improve stations and help overcome the barriers to rail travel that some experience, for example through travel training. NSCRP works to promote local visitor attractions and businesses close to stations.
NSCRP | North Staffordshire Community Rail Partnership (northstaffsrail.org.uk)
About National Literacy Trust in Stoke
National Literacy Trust in Stoke inspires families across the city to read together, and helps parents to support their children's literacy skills.
To get families in Stoke excited about reading and sharing stories, we run exciting community initiatives like Story Quest or the BookBench trail.
We also work with schools to support the teaching of literacy, and partner with local businesses who support our mission to raise literacy levels in the city. Make sure you're following our Facebook page for regular updates on our work.
Stoke Reads | National Literacy Trust
About B arts
B arts (Beavers Arts ltd) is a combined and participatory arts organisation founded in 1985. Our artistic vision is to produce high quality arts experiences with people from many different backgrounds who would not normally engage with the arts. We aim to strengthen the cultural infrastructure in our area; increase the diversity and range of artists and producers working in the region, and offer quality and depth of engagement in the arts to all.
Our vision is of a society where everyone has an equal chance to take part, and by taking part can make change for the better in themselves, their place and their communities. Our aim is to improve the lives of people and the places in which they live through creative and cultural interventions.
We work locally, nationally and internationally. In 2014 we moved into an ex-industrial building in Stoke-on-Trent and created a new front door for the organisation with our food justice café and bakery, Bread in Common.
About Avanti West Coast
Avanti West Coast, operator of intercity rail services on the West Coast Main Line, is a joint venture between FirstGroup and Trenitalia, delivering a cleaner, greener railway that drives the West Coast forward.
We're on a mission to revolutionise train travel. Our refurbed Pendolinos are returning to the rails, with a £117m investment that's delivering best in class comfort. Rebuilt using sustainable materials wherever possible, including tables made from recycled plastic bottles, our upgraded fleet offers 25,000 brand new seats, free Wi-Fi, onboard recycling and much more.
New Hitachi trains are set to replace our Voyager trains from 2023, leading to a 61% cut in carbon emissions. Quieter and roomier, with more reliable Wi-Fi, wireless charging for electrical devices and a real-time customer information system, the new 23-strong fleet is the result of a £350m investment in sustainable travel.
We're tackling climate change wherever we can, from reducing energy and water use to training drivers in eco-driving techniques and sourcing food and drink from local suppliers. Our goal is to be net zero carbon by 2031. We're on track.
For the latest news, visit the Avanti West Coast Media Centre: https://newsdesk.avantiwestcoast.co.uk/
Press Office: 0845 000 3333