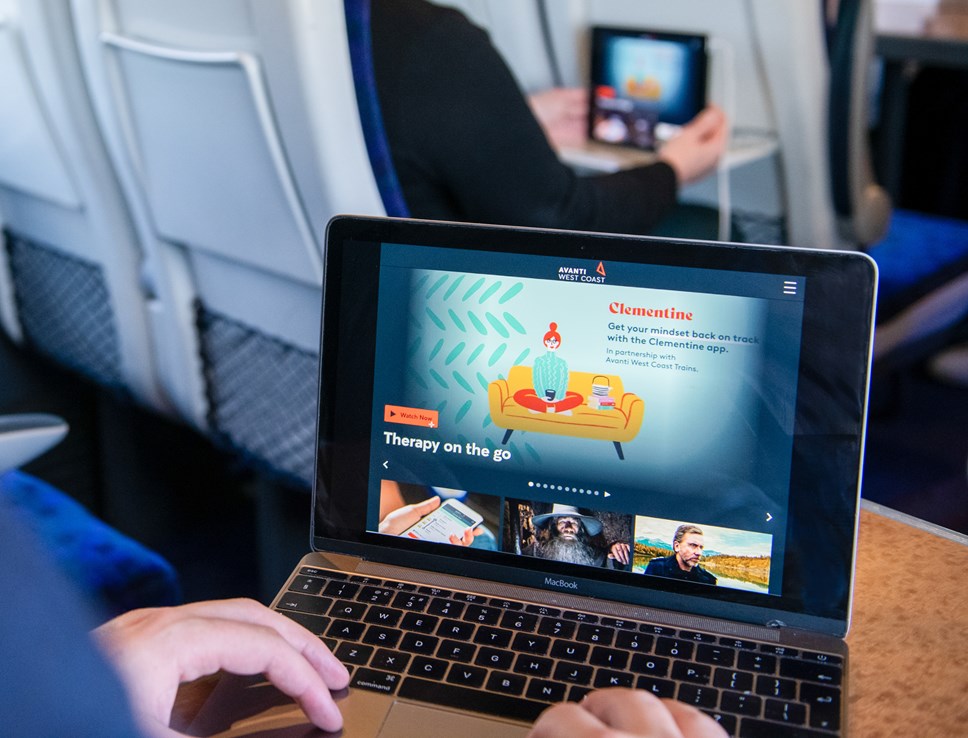 Free wellbeing hypnotherapy sessions offered by Avanti West Coast
Train operator partners with Clementine to offer sessions to help users feel confident and energised.
Long-distance operator partners with well-being app Clementine
Offer is exclusive to customers travelling on West Coast Main Line
Sessions aim to help users feel confident and empowered
Avanti West Coast is offering free hypnotherapy sessions on its trains in a first for the UK rail industry, to help customers feel energised and confident.
The long-distance operator has partnered with well-being app Clementine as part of an exclusive offer for those travelling on the West Coast Main Line.
Clementine will give customers access to a series of hypnotherapy sessions designed to help users get into the right mindset to make the most of their journey – whether it's space to rest or be more productive.
Launched this month, Clementine's selected material can be streamed on a customer's device through the free on-board entertainment service, Avanti Media.
The sessions are between three and 20 minutes long and focus on visualisation techniques to set customers up in the best possible way. These include recharging to overcome tiredness or feelings of being overwhelmed, to resources on power napping as well as improving productivity to help users feel confident, empowered and in control.
Bob Powell, Customer Proposition Director at Avanti West Coast said: "Taking the train is one of the most comfortable ways of getting to a destination and as we welcome our customers back to rail, this partnership is about helping them to get into the right mindset for the rest of the day.
"Whether that's taking a much-needed rest or mentally preparing for that big presentation. We believe the onboard journey experience is as important as getting to the destination itself. These sessions are part of the unique experience our customers can expect from travelling with Avanti West Coast."
Founder of Clementine, Kim Palmer, said: "We are so excited to be partnering with Avanti West Coast and providing their customers with access to our game changing hypnotherapy sessions for the first time. We believe in the power of hypnotherapy and making mental health tools accessible and achievable.
"This partnership is about enabling more people to create important micro mind-shifts throughout their journey preparing them for whatever awaits them as they alight their train."
Contact Information
Press Desk
Avanti West Coast
Notes to editors
About Avanti West Coast
Avanti West Coast, operator of intercity rail services on the West Coast Main Line, is a joint venture between FirstGroup and Trenitalia, delivering a cleaner, greener railway that drives the West Coast forward.
We're on a mission to revolutionise train travel, linking together the towns and major cities of the UK to create an iconic railway the country can be proud of. We've got big plans including a fleet of new intercity trains, as well as the complete refurbishment of the existing Pendolino train fleet. We will introduce more train services every week with new routes added, and a much-improved onboard service with enhanced free Wi-Fi, plug sockets, 25,000 brand new seats and improved catering. Since 8 December 2019, passengers have benefitted from improved passenger compensation, available for journeys delayed by just 15 minutes.
For the latest news, visit the Avanti West Coast Media Room: https://newsdesk.avantiwestcoast.co.uk/
Press Office: 0845 000 3333
About Clementine
Clementine is a hypnotherapy app. Created in 2017, the app offers bite-size hypnotherapy sessions, and longer confidence courses, designed to tackle a range of issues faced by people of all ages, including anxiety, imposter syndrome and body confidence, as well as trouble sleeping.
Hypnotherapy is a type of non-standard or "complementary and alternative medicine" treatment. It uses guided relaxation, intense concentration, and focused attention to achieve a heightened state of awareness that is sometimes called a trance
Clementine guides its users into a relaxed state using cognitive hypnotherapy and coaching - not meditation - to overcome daily grievances.
Informed by evolutionary psychology, positive psychology and cognitive theory, Clementine uses elements from a broad range of therapeutic styles including neuro-linguistic programming (NLP), cognitive behavioural therapy (CBT) and gestalt therapy. To put it simply our guided hypnotherapy sessions are a two-way dialogue designed to help you shift your mindset.
A one month subscription is also being made available exclusively as extended trial to Avanti West Coast customers as part of the partnership, but can also be downloaded here - https://clementineapp.com/