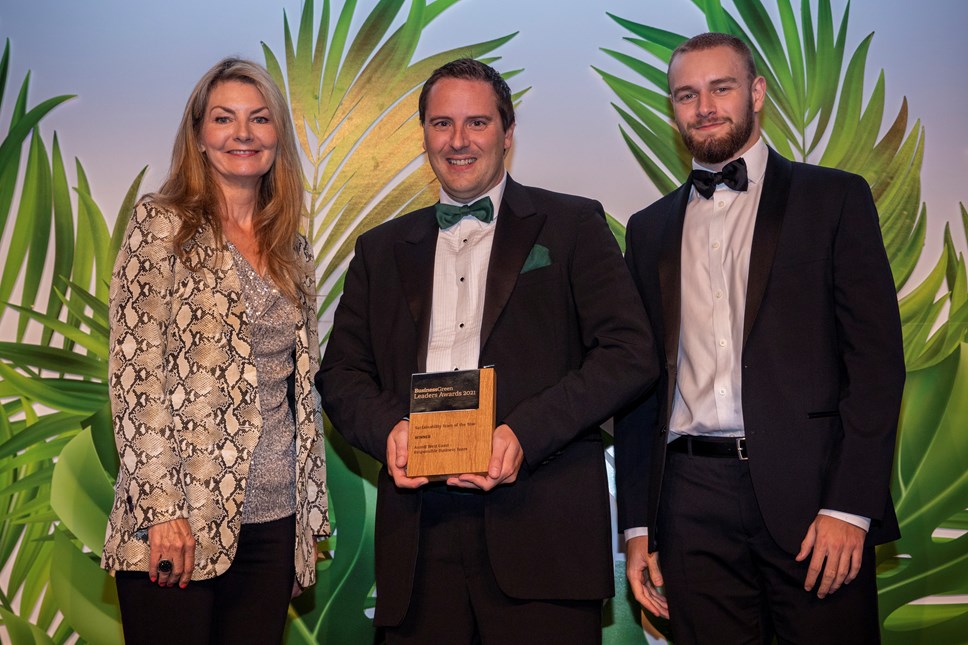 Sustainability Team of the Year honour for Avanti West Coast
Avanti West Coast's Responsible Business Team recognised at BusinessGreen Leaders Awards 2021.
Responsible Business colleagues recognised at BusinessGreen Leaders Awards
Commended for delivery of green projects and employee engagement
Judges hailed the team's "impressive track record" and "ambitious" programmes
Avanti West Coast's Responsible Business colleagues have been named Sustainability Team of the Year at the BusinessGreen Leaders Awards 2021.
The Responsible Business team's success in achieving all its environmental targets, while promoting their Sustainability Strategy companywide, saw them win at the UK's most prestigious green business awards.
Judges recognised the team for their "impressive track record and ambitious employee engagement and training programmes that have helped to embed sustainability at the heart of the business".
To drive the train operator's transition to a greener economy over the last year, the Responsible Business Team created their Sustainable Development Strategy. Titled 'Our Responsible Plan', it is built on four pillars – planet, people, customers and communities –with bold transformational goals to inspire the whole business.
Adapting to the challenges of the COVID-19 pandemic, they rolled out their strategy through a virtual programme to their leadership team and to provide companywide engagement enlisted the support of Avanti West Coast's 30 Green Champions – individuals who help drive environmental initiatives at a local level
Alongside raising awareness of green issues amongst colleagues, the Responsible Business team successfully transitioned the environmental management system (EMS), ensuring it could measure and track the train operator's environmental performance and continue to meet standard set by the International Organisation of Standardisation's (ISO)*.
During the height of the pandemic, the intercity operator prioritised its electric Pendolino fleet (reducing overall carbon emissions) and undertook carbon neutral surveys for all Avanti West Coast stations.
Building Management Systems (BMS) were also installed at all stations as a first step to improve energy efficiency.
The roll-out of Avanti West Coast branded customer-facing bins and recycling facilities across stations has resulted in increased recycling rates.
The team were highly commended in the Employee Engagement Campaign category for engaging colleagues in green behaviour change.
Avanti West Coast's Environment Executive, Ryan Hans, was also praised for his efforts to drive environmental improvements across the business in the Young Sustainability Executive of the Year category.
Gareth Williams, Head of Sustainability at Avanti West Coast, said: "Being shortlisted alongside so many inspirational green businesses was an achievement, so to win an award is overwhelming! The Responsible Business Team have put in a lot of work over the last year but there are so many individuals across Avanti West Coast who've taken up the mantle to drive 'Our Responsible Plan' forward that we've truly won this recognition together.
"Our fantastic Green and Community Champions are dedicated to making a difference at a local level and with their support and we'll ensure sustainability remains at the heart of our business, so we can protect our planet, do what's right for our customers and deliver improvements in the communities we serve."
ENDS
Contact Information
Laura Normansell
Avanti West Coast
Notes to editors
Image (L - R): Jo Caulfield (BusinessGreen Leaders Awards 2021 Host), Gareth Williams (Head of Sustainability at Avanti West Coast), Ryan Hans (Environment Executive at Avanti West Coast)
*Avanti West Coast has continued certification to ISO 14001 (Environmental management) and ISO 50001 (Energy management).
About Avanti West Coast
Avanti West Coast, operator of intercity rail services on the West Coast Main Line, is a joint venture between FirstGroup and Trenitalia, delivering a cleaner, greener railway that drives the West Coast forward.
We're on a mission to revolutionise train travel, linking together the towns and major cities of the UK to create an iconic railway the country can be proud of. We've got big plans including a fleet of new intercity trains, as well as the complete refurbishment of the existing Pendolino train fleet. We will introduce more train services every week with new routes added, and a much-improved onboard service with enhanced free Wi-Fi, plug sockets, 25,000 brand new seats and improved catering. Since 8 December 2019, passengers have benefitted from improved passenger compensation, available for journeys delayed by just 15 minutes.
For the latest news, visit the Avanti West Coast Media Room: https://newsdesk.avantiwestcoast.co.uk/
Press Office: 0845 000 3333