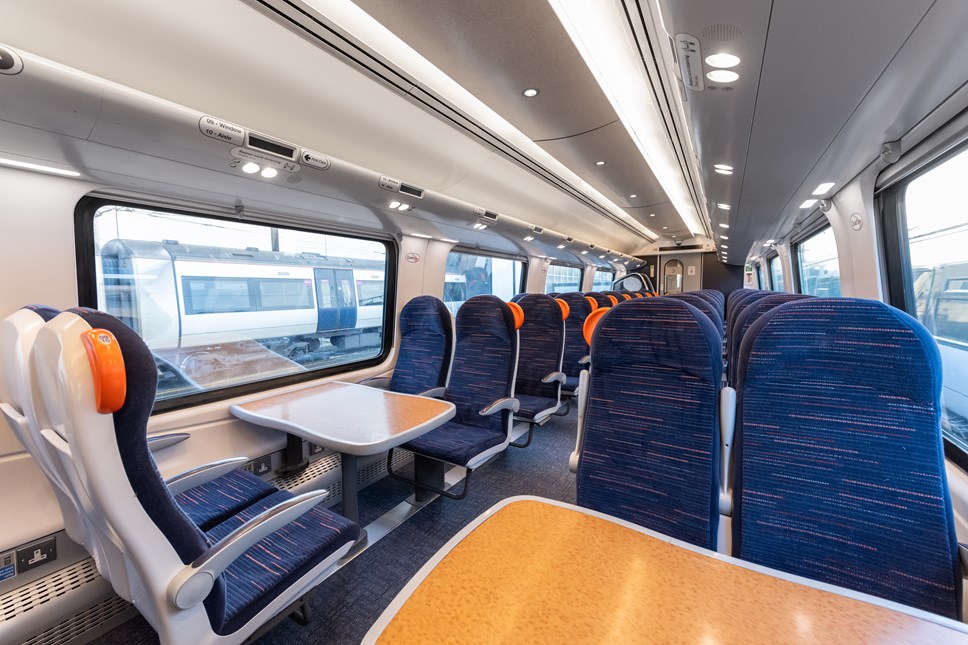 Upgrade to Avanti West Coast Voyager fleet now complete
Avanti West Coast partner with Bombardier to complete refresh of entire Voyager fleet
All 20 Voyager trains have now undergone an extensive interior refresh
£8.3m programme delivered in less than six months by Bombardier
Time lapse video captures week long programme of works
Avanti West Coast rolled out its final upgraded Voyager train today (Friday, 17 December) marking the end of a six-month overhaul programme.
The £8.3m investment was completed at Bombardier's depot in Ilford, east London, despite the challenges of the COVID-19 pandemic, with customers already benefitting from the trains' revitalised interiors.
The refresh of the 20 trains includes new Standard Class seats covers and carpets as well as a revamped toilet area. All older lighting has been replaced with more energy efficient LEDs.
The interior bodyside and ceiling panels in Vestibules, toilets and Standard Class saloons have also been refinished in either paint or vinyl wraps. The door grab handles have been coated with an anti-microbial finish.
The full programme of work was captured in a unique time lapse video which can be downloaded here:
Avanti West Coast Senior Project Manager, Adrian Bullock, explained: "This investment has delivered a step change to the Voyager's onboard environment. Our customers will really notice the difference."
"It's given the trains a new lease of life, and they will continue to serve our customers for the next two years with great distinction."
The 20 Voyagers operate over the non-electrified sections of the West Coast Main Line in addition to running from London to Scotland, via the West Midlands. They will remain in service until 2022 when Avanti West Coast will introduce a fleet of new Hitachi Class 805 and 807 trains.
Eric Holmes, Head of UK Services, Bombardier Transportation said; "We are very pleased to have completed this project for our friends at Avanti West Coast. The team at our Ilford facility have performed exceptionally well, despite the challenge of COVID-19, and have delivered a high quality product on time and on budget. We are all proud of what we have delivered to our customer."
Contact Information
Richard Stanton
Avanti West Coast
Notes to editors
About Avanti West Coast
Avanti West Coast, operator of intercity rail services on the West Coast Main Line, is a joint venture between FirstGroup and Trenitalia, delivering a cleaner, greener railway that drives the West Coast forward.
We're on a mission to revolutionise train travel, linking together the towns and major cities of the UK to create an iconic railway the country can be proud of. We've got big plans including a fleet of new intercity trains, as well as the complete refurbishment of the existing Pendolino train fleet. We will introduce more train services every week with new routes added, and a much-improved onboard service with enhanced free Wi-Fi, plug sockets, 25,000 brand new seats and improved catering. Since 8 December, passengers have benefitted from improved passenger compensation, available for journeys delayed by just 15 minutes.
For the latest news, visit the Avanti West Coast Media Room: https://newsdesk.avantiwestcoast.co.uk/
Press Office: 0845 000 3333
About Bombardier Transportation
Bombardier Transportation is a global mobility solution provider leading the way with the rail industry's broadest portfolio. It covers the full spectrum of solutions, ranging from trains to sub-systems and signalling to complete turnkey transport systems, e-mobility technology and data-driven maintenance services. Combining technology and performance with empathy, Bombardier Transportation continuously breaks new ground in sustainable mobility by providing integrated solutions that create substantial benefits for operators, passengers and the environment. Headquartered in Berlin, Germany, Bombardier Transportation employs around 36,000 people and its products and services operate in over 60 countries.