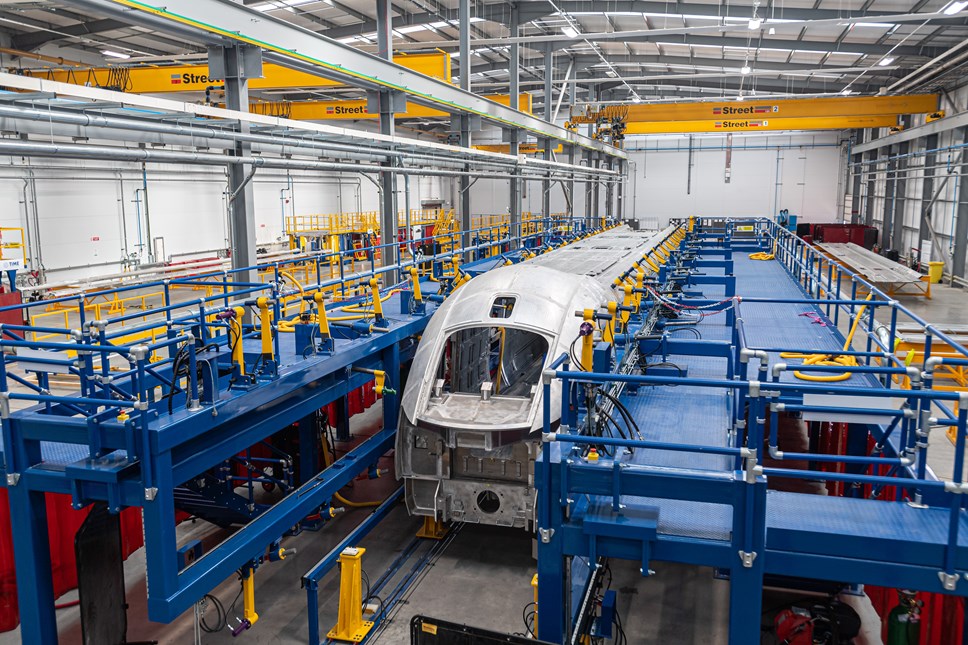 Work begins on Avanti West Coast's new fleet of trains
New British built Avanti West Coast trains take shape at Hitachi Rail's factory following significant investment in welding facilities.
Watershed moment for train building as Hitachi Rail starts work on Avanti West Coast fleet
Welding of new passenger trains undertaken at factory in North East of England
£110million invested in state-of-the-art train building factory creating new roles.
Work has commenced on Avanti West Coast's fleet of new trains which will serve customers along the West Coast Main Line including London, the Midlands, North Wales, Liverpool and Lancashire.
New welding and painting facilities will be used to build the next generation of intercity trains for Avanti West Coast and East Midlands Railway.
Around 40 staff including newly graduated welders and painters will be completing the high-tech aluminium carriage shells, which are a signature of Hitachi's intercity fleets.
The new fleet will comprise of 10 Class 807 seven carriage electric trains and 13 Class 805 five carriage bi-mode trains, the latter due to replace the current diesel Voyager trains and deliver a 61% reduction in carbon emissions.
The work being undertaken at the factory is part of Hitachi Rail's investment at Newton Aycliffe in the North East – which now totals £110million.
The North East train builder has invested £8.5million to create bespoke welding and painting facilities within the factory. This on-shoring of crucial high value aspects of the manufacturing process is further evidence of Hitachi Rail's long-term commitment to region. It is also the first time in decades that a new train welding facility has been created in the Britain, with over 230 carriages due to be welded at Newton Aycliffe.
The firm established its highly advanced UK based manufacturing base, with its 700 strong workforce, in 2015 to build pioneering 122 trains as part of the Government's Intercity Express Programme, along with 70 zero-emission Class 385 regional trains for Scotland.
Since this time, Hitachi Rail has focused on localising its supply chain in the UK with whom is has already spent £1.8billion since 2013. The new manufacturing capabilities at the factory is allowing Hitachi Rail to further expand its UK supply chain. New domestic suppliers include AES in Glasgow, Airblast in Peterborough and KM Tools in Stoke-on-Trent.
Transport Secretary, Grant Shapps, said: "It is fitting that Hitachi Rail are building the next generation of intercity trains in County Durham, a place with a proud and illustrious railway heritage.
"Their long-term commitment and continued investment in the North East is a major boost for jobs and skills, driving economic growth and helping levelling up our country as we build back better from the pandemic."
Phil Whittingham, Managing Director at Avanti West Coast said: "We're proud to be partnering with Hitachi Rail, and it's UK supply chain, to build a fleet of new trains that will transform the travelling experience for our customers on the West Coast Main Line. The investment is a key part of our exciting plans to raise the bar for the UK rail industry, and will deliver a significant reduction in carbon emissions."
Jim Brewin, Head of UK & Ireland, Hitachi Rail said: "The £110 million we have now invested at Newton Aycliffe is not only a sign of our continued commitment to the North East of England but also British manufacturing and its supply chain.
At the heart of our commitment is the continued development of a highly skilled and dynamic workforce and 70 apprenticeships will drive the rail industry forward at home and abroad for many years to come."
The new welding and painting facility will allow the factory to be more globally competitive, with the capacity to export a wide range of products from metros to commuter and high-speed trains. Target markets include northern Europe and the Middle East, with the firm's increasing leadership in battery trains broadening the potential opportunities.
Last year Hitachi Rail partnered with Hyperdrive Innovation to develop battery packs that can power trains and help the UK meet its Net Zero 2050 targets.
Contact Information
Richard Stanton
Avanti West Coast
Notes to editors
Notes to Editors
MIG welding of high strength aluminium alloys is taking place at Newton Aycliffe which is highly skilled, codified welding. MIG welding capability is a planned step for Newton Aycliffe's development and paves the way for further welding capability in the future.
Hitachi's intercity fleets (Class 800s) make up six of the top 10 most reliable new fleets in the UK in Modern Railways' 'New Trains Reliability for Period 8 2020-21"
The Hitachi built ScotRail Class 385 was awarded the "Fleet Excellence" at the National Rail 2020 Awards.
About Avanti West Coast
Avanti West Coast, operator of intercity rail services on the West Coast Main Line, is a joint venture between FirstGroup and Trenitalia, delivering a cleaner, greener railway that drives the West Coast forward.
We're on a mission to revolutionise train travel, linking together the towns and major cities of the UK to create an iconic railway the country can be proud of. We've got big plans including a fleet of new intercity trains, as well as the complete refurbishment of the existing Pendolino train fleet. We will introduce more train services every week with new routes added, and a much-improved onboard service with enhanced free Wi-Fi, plug sockets, 25,000 brand new seats and improved catering. Since 8 December, passengers have benefitted from improved passenger compensation, available for journeys delayed by just 15 minutes.
For the latest news, visit the Avanti West Coast Media Room: https://newsdesk.avantiwestcoast.co.uk/
Press Office: 0845 000 3333
About Hitachi Rail
Hitachi Rail is a fully integrated, global provider of rail solutions across rolling stock, signalling, service & maintenance, digital technology and turnkey. With a presence in 38 countries, across six continents and over 12,000 employees, our mission is to contribute to society through the continuous development of superior rail transport solutions. We are proud of our global achievements, from our world ¬famous 'bullet trains', to our signalling solutions and turnkey projects, state ¬of¬ the-art traffic management and digital solutions. Drawing on the wider Hitachi Group's market-leading technology and research-and-development capabilities, we strive for industry ¬leading innovations and solutions that can deliver value for customers and sustainable railway systems that benefit wider society. For information about Hitachi Rail, visit www.hitachirail.com
For more information, please contact: Douglas McIlroy, Hitachi Rail / douglas.mcilroy@hitachirail.com / 07548238140