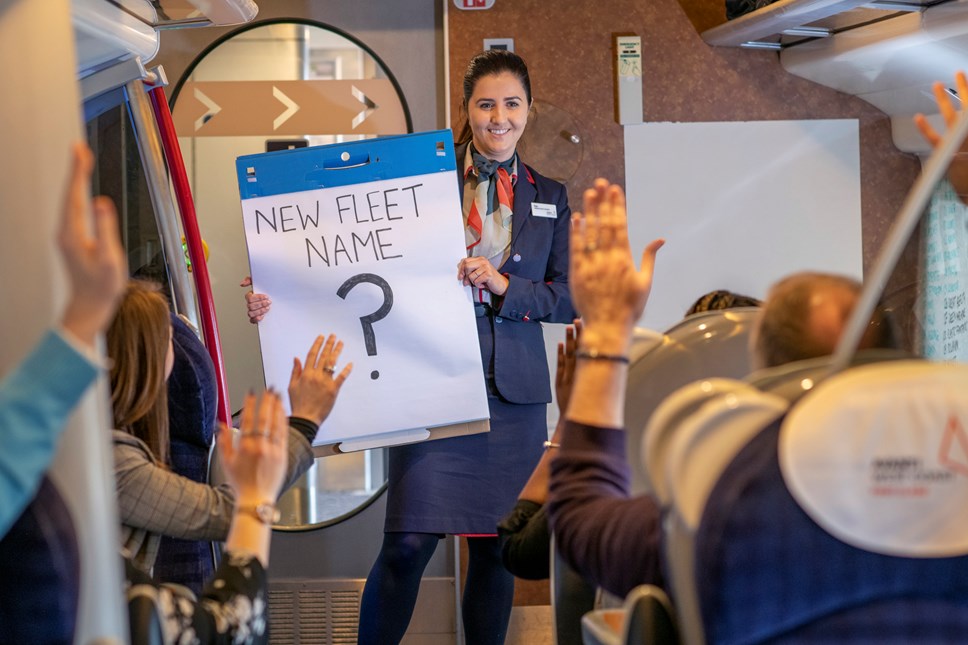 All aboard the "Trackathon" to find a name for new Avanti West Coast fleet
Avanti West Coast invites guests to join a 'Trackathon' to help come up with a name for its new fleet of Hitachi trains.
Session held on a Pendolino to help decide the name of new £350m fleet
On board event called "Trackathon" gathered figures from around the industry
Name to be revealed later this year ahead trains entering service in 2023
Avanti West Coast has kicked off a quest to find a name for its new multi-million pound fleet with a unique event on board a train to come up with ideas.
Calling the session a "Trackathon", guests were invited to take part and put forward proposals which would make a suitable moniker for the Hitachi sets which are due in service in 2023.
As the building of the trains continues apace at Hitachi's factory in County Durham, the creative juices were put to test on a Pendolino train heading for Manchester from Euston, with a carriage of participants eager to help shape the next generation of rolling stock on the West Coast Main Line.
Global naming agency Schwa, whose team were behind such names as Ocado, were enlisted to lead the session. Their aim was to coax out as many good ideas as possible from Avanti West Coast colleagues and participants from the wider railway industry including Hitachi, train financiers Rock Rail and consumer watchdog Transport Focus.
The £350m fleet will comprise of 10 Class 807 seven carriage electric trains and 13 Class 805 five carriage bi-mode trains. They will replace the current diesel Voyager trains and serve the West Midlands, North Wales and Liverpool.
Sarah Copley, Executive Director Commercial at Avanti West Coast said, "The reason behind this is because the name of our new fleet must mean more to our people, our communities, and our customers. It should stand for something bigger. A title that gives the world a glimpse of what we aim to achieve which goes beyond A to B.
"We want to inspire. A name that reflects the heritage of the routes we serve which is why we invited representatives of our network to bring a different spark and knowledge to this search."
The new name is expected to be announced later this year when the trains are expected to start the extensive programme of testing.
Contact Information
Richard Stanton
Avanti West Coast
Notes to editors
About Avanti West Coast
Avanti West Coast, operator of intercity rail services on the West Coast Main Line, is a joint venture between FirstGroup and Trenitalia, delivering a cleaner, greener railway that drives the West Coast forward.
We're on a mission to revolutionise train travel, linking together the towns and major cities of the UK to create an iconic railway the country can be proud of. We've got big plans including a fleet of new intercity trains, as well as the complete refurbishment of the existing Pendolino train fleet. We will introduce more train services every week with new routes added, and a much-improved onboard service with enhanced free Wi-Fi, plug sockets, 25,000 brand new seats and improved catering. Since 8 December 2019, passengers have benefitted from improved passenger compensation, available for journeys delayed by just 15 minutes.
For the latest news, visit the Avanti West Coast Media Room: https://newsdesk.avantiwestcoast.co.uk/
Press Office: 0845 000 3333
About Rock Rail
Rock Rail is an independent developer, owner and asset manager of rolling stock and other rail infrastructure. Established in 2014, Rock Rail provides innovative, value enhancing funding approaches for strategically important passenger rolling stock and other rail infrastructure.
Since 2016 it has secured £3 billion of institutional investment in new, state-of-the-art rolling stock, helping transform passenger journeys and delivering enhanced value for money to the public sector.