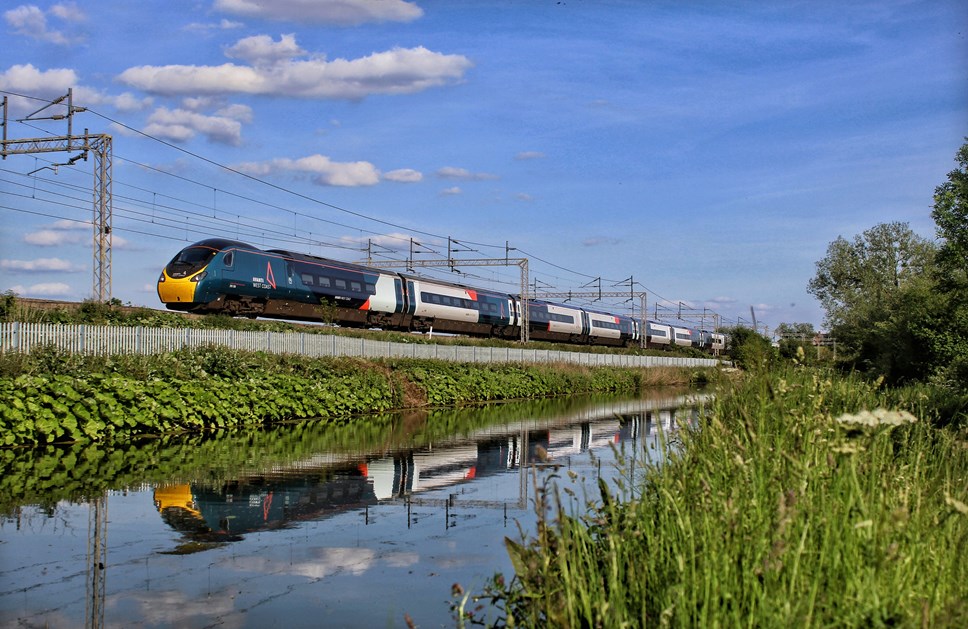 Avanti West Coast champions sustainable business activity with Social Value Report
Social Value Report showcases Avanti West Coast's efforts to make a difference to local communities.
Avanti West Coast shares commitment to making a difference to communities through publication of Social Value Report
Report showcases positive impact of efforts towards the environment and society
Target to create £1bn of social value by 2031 that helps create meaningful change
Avanti West Coast has published its annual Social Value Report showcasing its efforts towards making a positive impact to the environment and society in the regions it serves.
The report outlines the social and environmental initiatives delivered by the intercity operator over 12 months that contribute towards its sustainability efforts, including its schools' engagement programme and work with local suppliers and charities.
Designed to help address social issues and create meaningful change in communities along the West Coast Main Line, these activities contributed a total operational, environmental and economic impact worth £212m during the 12-month period. Highlights from the report, which supports the train operator's sustainability strategy, Our Responsible Plan, included:
Connecting young people to opportunities with the Feel Good Field Trips initiative.
The creation of a mural featuring pioneering train driver, Karen Harrison, at London Euston to inspire women to follow in her footsteps, as part of a recruitment campaign.
Travel Companion – a dedicated channel offering instant accessibility help during journeys.
Additionally, Avanti West Coast appointed an Accessibility and Social Value Manager as part of its mission to be a sustainable business. The role aims to engage stakeholders and staff in creating positive impacts that go beyond providing a train service and help bring about social, economic and environmental development.
The train operator's activities have enabled it to support local communities, foster innovation and growth, as well as reduce its environmental impact over 12 months.
To further its commitment to social responsibility, Avanti West Coast will use the report to develop plans for future initiatives that help progress towards its sustainability goals. This includes its target to create over £1bn worth of social value by 2031.
Melanie Hockenhull, Head of Sustainability at Avanti West Coast, said: "We want to make a long-lasting impact in the communities we serve, so it's important our business activities contribute positively towards society and the environment along our route.
"Our Social Value Report highlights the actions we're taking to drive change and we'll use it as a benchmark to push further improvements in our mission to be a responsible business.
"By being transparent about our progress, we hope to inspire our people, customers and communities to play a part in making a difference to the world we live in."
ENDS
Contact Information
Press Desk
Avanti West Coast
Notes to editors
Avanti West Coast's Social Value Report, which outlines initiatives delivered between 1 April 2022 and 31 March 2023 can be found at: Our communities | Avanti West Coast
To find out more about Avanti West Coast's sustainability efforts, visit: Sustainability | Green Rail Travel | Avanti West Coast
About Avanti West Coast
Avanti West Coast, operator of intercity rail services on the West Coast Main Line, is a joint venture between FirstGroup and Trenitalia, delivering a cleaner, greener railway that drives the West Coast forward.
We're on a mission to revolutionise train travel. Our refurbed Pendolinos are returning to the rails, with a £117m investment that's delivering best in class comfort. Rebuilt using sustainable materials wherever possible, including tables made from recycled plastic bottles, our upgraded fleet offers 25,000 brand new seats, free Wi-Fi, onboard recycling and much more.
New Hitachi trains are set to replace our Voyager trains from 2023, leading to a 61% cut in carbon emissions. Quieter and roomier, with more reliable Wi-Fi, wireless charging for electrical devices and a real-time customer information system, the new 23-strong fleet is the result of a £350m investment in sustainable travel.
We're tackling climate change wherever we can, from reducing energy and water use to training drivers in eco-driving techniques and sourcing food and drink from local suppliers. Our goal is to be net zero carbon by 2031. We're on track.
For the latest news, visit the Avanti West Coast Media Centre: https://newsdesk.avantiwestcoast.co.uk/
Press Office: 0845 000 3333