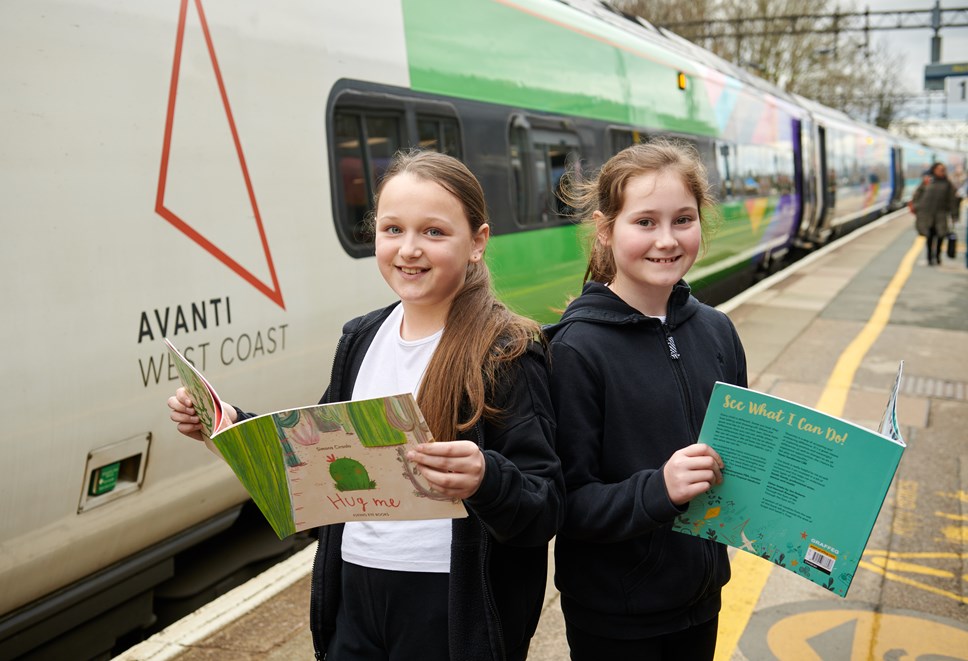 Avanti West Coast helps to champion diversity with children's book donations
Donations of inclusive books from Avanti West Coast aims to encourage children along west coast route to read and recognise diversity.
Avanti West Coast donates hundreds of inclusive books to get children reading
Partnership with Little Box of Books designed to diversify school bookshelves
Reading sessions hosted along west coast, as part of World Book Day celebrations
Avanti West Coast has donated hundreds of books to primary schools along its route to encourage children to read and help them learn about diversity.
Working with Little Box of Books - a children's book company that find representative, inclusive books from a diverse range of authors – the train operator has gifted hundreds of titles to 18 schools local to the West Coast Main Line.
Boxes containing 100 books that reflect society were delivered to primary schools in London, Birmingham, Stafford, Stoke-on-Trent, Crewe, Holyhead, Runcorn, Macclesfield, Manchester, Wigan, Preston, Glasgow, and Edinburgh ahead of World Book Day 2023. Teachers also received a webinar to talk them through how to use the books in their classroom.
The donations are designed to get young people reading, while giving them access to literature that represents society.
This is the second year Avanti West Coast has teamed up with the children's book company to give pupils the opportunity to read. It is part of its commitment to engage with 4,000 pupils through its School Programme, which aims to connect those from different ethnicities and disadvantaged backgrounds to opportunities.
To help children celebrate World Book Day, Avanti West Coast staff will read to children from the selection of books as part of sessions being held at schools and its stations.
Rachel Jones, Diversity and Inclusion Consultant at Avanti West Coast, said: "We're proud to have teamed up with Little Box of Books once again to give local children the chance to read some lovely titles that reflect the world we live in.
"We want to make a difference in our local communities, so by giving children access to books that represent the people and places we serve, we hope it will not only encourage them to read but to champion diversity, which is something close to our hearts here at Avanti West Coast."
Founder and Director of Little Box of Books, Lynsey Pollard, said: "Inclusive books, that truly reflect our society, help children to expect and celebrate diversity. That's why we're so grateful for Avanti West Coast's ongoing support, collaborating for a second year running with Little Box of Books to help diversify primary school bookshelves.
"Having access to books that show diversity in race, culture and family set up will help children to recognise diversity from a young age, and in turn create a more equal society for this future generation and generations to come."
ENDS
Contact Information
Laura Normansell
Avanti West Coast
Notes to editors
Main image: Jessica and Ella from Westfield Primary School in Runcorn
About Little Box of Books
Little Box of Books curate collections of books so that more children can see themselves in the stories that they read. They find representative, inclusive, brilliant books from a diverse range of authors.
https://littleboxofbooks.co.uk/
About Avanti West Coast
Avanti West Coast, operator of intercity rail services on the West Coast Main Line, is a joint venture between FirstGroup and Trenitalia, delivering a cleaner, greener railway that drives the West Coast forward.
We're on a mission to revolutionise train travel. Our refurbed Pendolinos are returning to the rails, with a £117m investment that's delivering best in class comfort. Rebuilt using sustainable materials wherever possible, including tables made from recycled plastic bottles, our upgraded fleet offers 25,000 brand new seats, free Wi-Fi, onboard recycling and much more.
New Hitachi trains are set to replace our Voyager trains from 2023, leading to a 61% cut in carbon emissions. Quieter and roomier, with more reliable Wi-Fi, wireless charging for electrical devices and a real-time customer information system, the new 23-strong fleet is the result of a £350m investment in sustainable travel.
We're tackling climate change wherever we can, from reducing energy and water use to training drivers in eco-driving techniques and sourcing food and drink from local suppliers. Our goal is to be net zero carbon by 2031. We're on track.
For the latest news, visit the Avanti West Coast Media Centre: https://newsdesk.avantiwestcoast.co.uk/
Press Office: 0845 000 3333