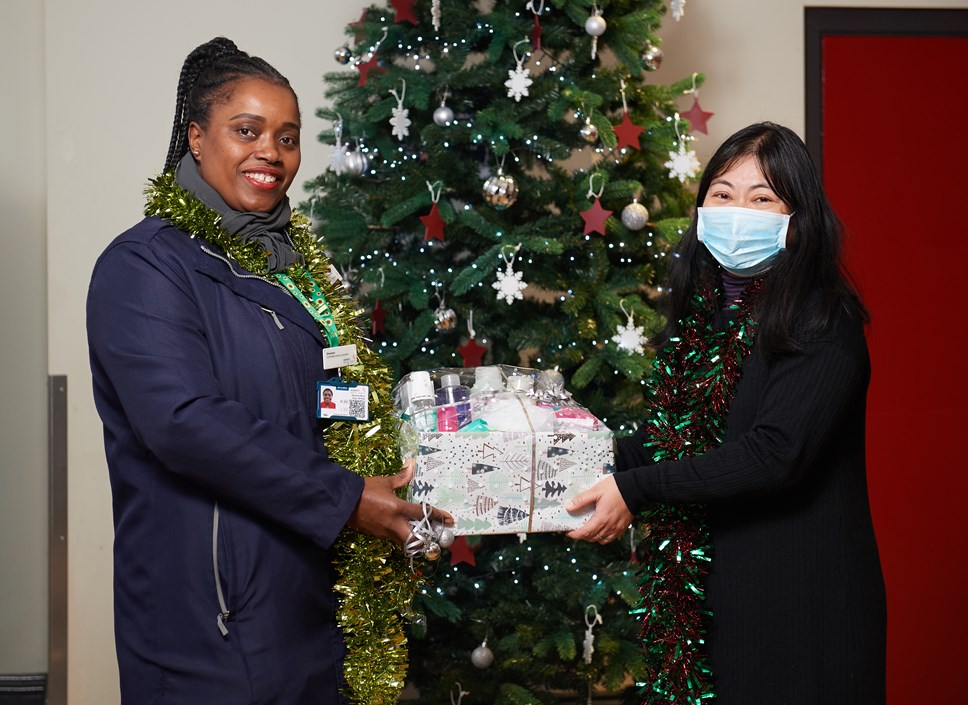 Avanti West Coast staff spread Christmas cheer with donations
Avanti West Coast team at Stoke-on-Trent support work of local church with donations to help those in need this Christmas.
Avanti West Coast staff at Stoke-on-Trent take part in drive to help those most in need this Christmas
Contributions by the team will go towards hampers of food and toiletries.
The donations support the work of a local church to look after vulnerable
Avanti West Coast staff have donated hundreds of essential items to help vulnerable members of the community in Stoke-on-Trent this Christmas.
The team based at Stoke-on-Trent station have contributed food, toiletries, and baby clothes to support the work of St Michael's Community Church in Northwood, following an idea from Sherene Wray – an Avanti West Coast Customer Service Assistant.
For the last two years, Sherene has been giving the money she would use to buy and send Christmas cards for family and friends to the church, which she attends.
Through her involvement with St Michael's, Sherene saw first-hand how those in need could be supported and this year decided to extend the idea to colleagues at the station and encourage them to donate essential items.
The team wrapped up the donations as festive hampers – with pamper packages for adults in hostels and refuges, who have left home with only the clothes they're wearing, as well as food boxes to support families impacted by the COVID-19 pandemic.
The hampers are being distributed by members of the church to spread some cheer over the festive period. The idea was an alternative to their annual Christmas dinner for those in need which cannot take place due to the pandemic.
Speaking of the charitable initiative, Sherene said: "As a member of St Michael's Community Church, I know how vital their work is to the local community, and the difference small gestures can make – even more so as people begin to feel the impact of the pandemic. I wanted to support the church's efforts to spread some festive cheer and help as many people as possible, which is why I encouraged my colleagues at Stoke-on-Trent station to donate what they could.
"I'm overwhelmed by their response to this initiative – it's the first time the Avanti West Coast team have come together to support the local community on this scale. I'm grateful for their generous donations, which will help those in need this Christmas."
Pastor Joy Henry, of St Michael's Community Church, said: "The power is not being served, but it is in serving. The power is in giving, as our Lord Jesus showed by his example to love. We have a small church congregation but a big heart to serve the community."
Anyone wishing to donate food or toiletries to support St Michael's Community Church are welcome to bring them to Stoke-on-Trent station.
ENDS
Contact Information
Laura Normansell
Avanti West Coast
Notes to editors
About Avanti West Coast
Avanti West Coast, operator of intercity rail services on the West Coast Main Line, is a joint venture between FirstGroup and Trenitalia, delivering a cleaner, greener railway that drives the West Coast forward.
We're on a mission to revolutionise train travel, linking together the towns and major cities of the UK to create an iconic railway the country can be proud of. We've got big plans including a fleet of new intercity trains, as well as the complete refurbishment of the existing Pendolino train fleet. We will introduce more train services every week with new routes added, and a much-improved onboard service with enhanced free Wi-Fi, plug sockets, 25,000 brand new seats and improved catering. Since 8 December, passengers have benefitted from improved passenger compensation, available for journeys delayed by just 15 minutes.
For the latest news, visit the Avanti West Coast Media Room: https://newsdesk.avantiwestcoast.co.uk/
Press Office: 0845 000 3333