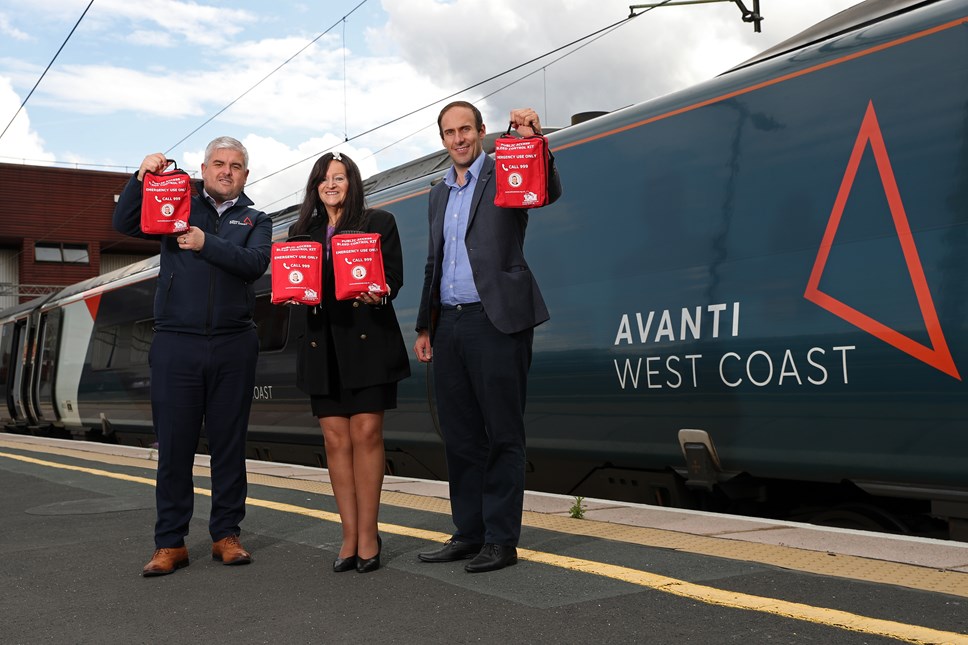 Avanti West Coast team up with charity to roll out bleed kits at stations
Avanti West Coast supports campaign for more publicly accessible bleed control kits.
Avanti West Coast partners with charity The Daniel Baird Foundation
Aim of the charity is to raise awareness of the need for publicly accessible bleed control kits
Train operator will install kits at all 16 managed stations on its network
Bleed control kits are due to be installed at all of Avanti West Coast's managed stations after the train operator backed a charity campaign to spread awareness of their importance.
Avanti West Coast has partnered with The Daniel Baird Foundation to provide additional protection for its customers and colleagues, over and above the existing first aid provision which already includes defibrillators on each of its trains and at its 16 stations.
The foundation was set up by Lynne Baird in 2017 with the mission of promoting greater access to bleed kits in the West Midlands following the tragic death of her son Daniel.
In the intervening years, Lynne's passion and energy, for which she received an MBE in the 2022 New Year's Honours list, has seen over 10,000 kits introduced in public places across the UK and as far afield as the Turks and Caicos Islands.
The bleed kits will sit alongside the existing first aid provision at stations and be accessible for employees to use in the event of an emergency.
David Whitehouse, Security Director at Avanti West Coast said: "The safety of our people and customers is paramount. Accidents can happen at any time and bleed kits, put simply, can help save a life.
"We are incredibly proud to support the Foundation and would encourage others to join with Lynne to promote such an important cause."
Lynne Baird added: "People shouldn't just associate a catastrophic bleed to a stabbing. There are many other causes such as from a car accident or a work-related injury.
"We believe that having publicly accessible bleeding control packs in public places such as railway stations is vital. They provide the necessary first aid to help reduce blood loss until professional medical help arrives and I can't thank Avanti West Coast enough for their support."
Councillor Keiran Casey, who represents the Castle and Priory Ward in Dudley said: "Lynne is an inspiration to us all and it's been an honour to support her work which is so vitally important.
"We're both extremely grateful to Avanti West Coast for supporting the campaign to help improve safety across the network and for rolling these kits out, they can genuinely save lives."
Main picture (left to right) - David Whitehouse, Lynne Baird MBE and Cllr Keiran Casey
Contact Information
Richard Stanton
Avanti West Coast
Notes to editors
Notes to Editors
Bleed Control Kits will be introduced at the following stations:
West Midlands
Birmingham International
Coventry
Rugby
Stafford
North West
Crewe
Macclesfield
Preston
Runcorn
Stockport
Stoke-on-Trent
Warrington Bank Quay
Wigan North Western
Cumbria / The Lakes
Carlisle
Lancaster
Oxenholme
Penrith
About Avanti West Coast
Avanti West Coast, operator of intercity rail services on the West Coast Main Line, is a joint venture between FirstGroup and Trenitalia, delivering a cleaner, greener railway that drives the West Coast forward.
We're on a mission to revolutionise train travel. Our refurbed Pendolinos are returning to the rails, with a £117m investment that's delivering best in class comfort. Rebuilt using sustainable materials wherever possible, including tables made from recycled plastic bottles, our upgraded fleet offers 25,000 brand new seats, free Wi-Fi, onboard recycling and much more.
New Hitachi trains are set to replace our Voyager trains from 2023, leading to a 61% cut in carbon emissions. Quieter and roomier, with more reliable Wi-Fi, wireless charging for electrical devices and a real-time customer information system, the new 23-strong fleet is the result of a £350m investment in sustainable travel.
We're tackling climate change wherever we can, from reducing energy and water use to training drivers in eco-driving techniques and sourcing food and drink from local suppliers. Our goal is to be net zero carbon by 2031. We're on track.
For the latest news, visit the Avanti West Coast Media Centre: https://newsdesk.avantiwestcoast.co.uk/
Press Office: 0845 000 3333