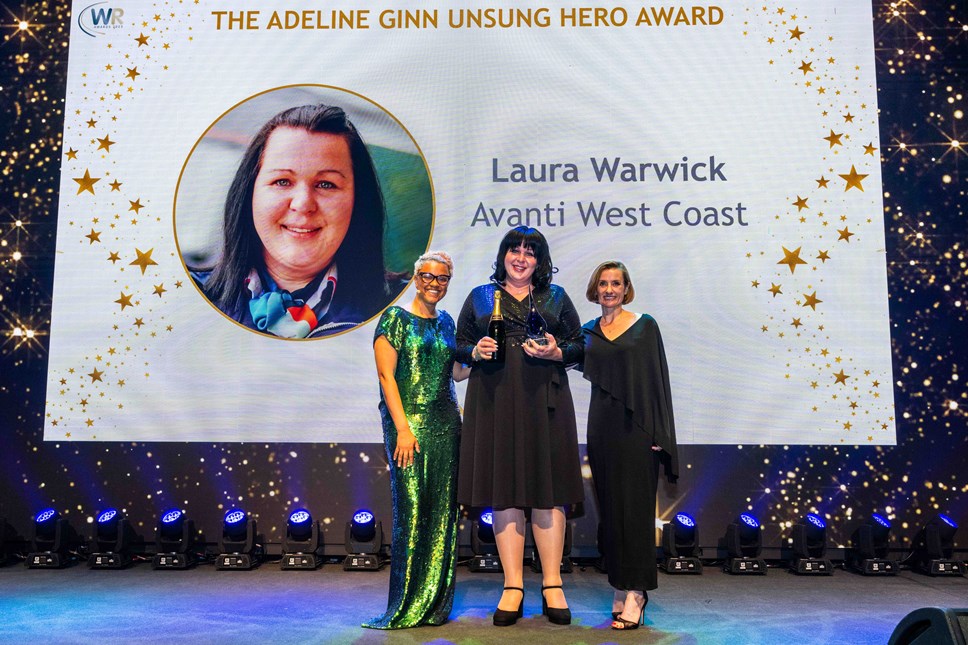 Avanti West Coast's Community Champion named Unsung Hero at Women in Rail Awards
Laura Warwick, a Team Leader at Runcorn station, was presented with the award for her local community work
Laura Warwick, Team Leader at Runcorn, wins the Unsung Hero prize
Award recognises her wide-ranging support for local communities
She is an advocate for mental health awareness and has set up drop-in wellbeing sessions at her station
An Avanti West Coast Community Champion has won the prestigious Unsung Hero prize at this year's Women in Rail Awards.
Laura Warwick, who is a Team Leader at Runcorn station, was presented with the award for her community work to support the wider Runcorn, Widnes and Halton areas.
She has delivered many social initiatives across the region, including leading her own idea to transform the waiting room at Runcorn into a joint-function space to support community events.
In addition, she regularly speaks at local schools on Rail Safety and she is an avid supporter of Avanti West Coast's "Feel-good Field Trips" initiative.
As part of the programme, she works closely with the local council and the Tate Gallery in Liverpool to arrange fun days out for children from disadvantaged school districts who might not otherwise be able to afford the experience.
Laura is a huge advocate for mental health awareness and has set up a weekly well-being drop-in session at Runcorn station alongside local peer support group, 'It's Good 2 Talk'.
She is also fully trained in direct suicide prevention interventions, and only recently as last year, Laura identified a vulnerable woman at risk and made sure she received the care she needed.
She was presented with the award at a ceremony in central London last night (18 May). Returning to Runcorn, following her win, to a guard of honour at the station from her colleagues, Laura said:
"I am absolutely blown away and I feel really overwhelmed with gratitude to have received this award.
"This accomplishment is not something that I did alone, there are so many people that deserve to share this award. I would like to thank my whole team at Runcorn who have supported my vision in bringing our local community, charities and support groups to our stations. Together we can squash the stigma surrounding mental health and so many other relatable issues."
Simon Brooks, Avanti West Coast, Station Manager for Liverpool and Runcorn said: "This award is massively deserved as Laura is an absolute inspiration to her colleagues, customers and the wider community of Runcorn for her tireless work to improve local people's lives.

ENDS
Contact Information
Chris Penn
Notes to editors
Read here about Laura setting up mental health drop-in sessions at Runcorn station: https://newsdesk.avantiwestcoast.co.uk/news/avanti-west-coast-provides-platform-for-mental-health-with-walk-in-service-at-station
Picture in text: Laura alongside Runcorn station manager Simon Brooks, after returning from her award win
About Avanti West Coast
Avanti West Coast, operator of intercity rail services on the West Coast Main Line, is a joint venture between FirstGroup and Trenitalia, delivering a cleaner, greener railway that drives the West Coast forward.
We're on a mission to revolutionise train travel. Our refurbed Pendolinos are returning to the rails, with a £117m investment that's delivering best in class comfort. Rebuilt using sustainable materials wherever possible, including tables made from recycled plastic bottles, our upgraded fleet offers 25,000 brand new seats, free Wi-Fi, onboard recycling and much more.
New Hitachi trains are set to replace our Voyager trains from 2023, leading to a 61% cut in carbon emissions. Quieter and roomier, with more reliable Wi-Fi, wireless charging for electrical devices and a real-time customer information system, the new 23-strong fleet is the result of a £350m investment in sustainable travel.
We're tackling climate change wherever we can, from reducing energy and water use to training drivers in eco-driving techniques and sourcing food and drink from local suppliers. Our goal is to be net zero carbon by 2031. We're on track.
For the latest news, visit the Avanti West Coast Media Centre: https://newsdesk.avantiwestcoast.co.uk/
Press Office: 0845 000 3333