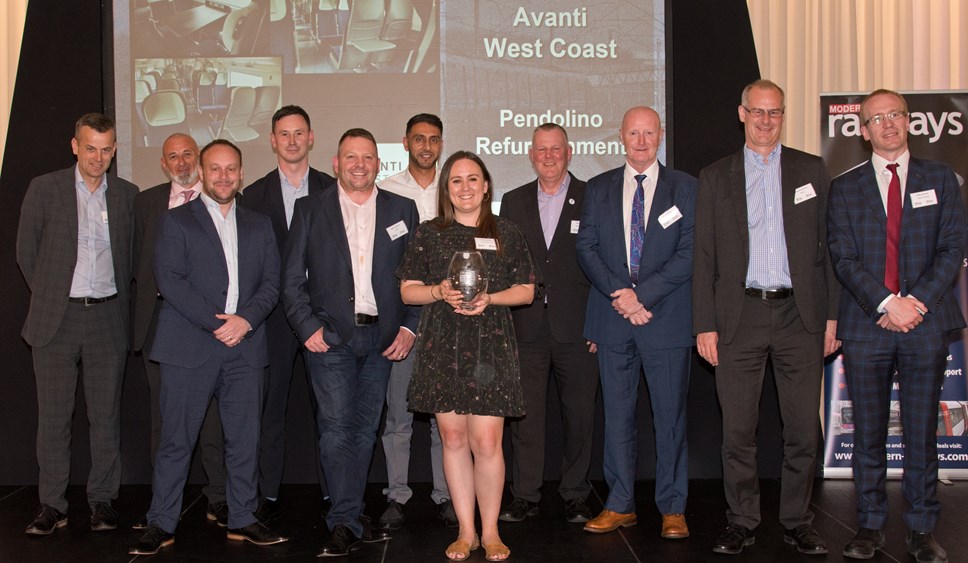 Pendolino refurbishment recognised at the 2023 Railway Innovation Awards
The UK's largest ever fleet upgrade picks up the Major Project of the Year award at the 2023 Railway Innovation Awards.
Pendolino refurbishment wins Major Project of the Year award
Judges praise innovative and collaborative approach for work on fleet upgrade
Over 700k plastic bottles used in manufacture of new tables on board
The refurbishment of the Avanti West Coast Pendolino fleet has won the Major Project prize at the 2023 Railway Innovation Awards with judges highlighting its industry leading sustainable approach
The longest standing award scheme in the rail industry, which is hosted by Modern Railways and this year celebrates its 25th anniversary, is designed to showcase the very best in innovation.
Judges praised the project, the largest ever fleet upgrade in the UK, for a number of new innovative features, together with high levels of collaboration with partners Alstom and fleet owners Angel Trains.
The work has been undertaken by rail manufacturer Alstom at their new depot in Widnes in the North West, helping to secure 100 skilled jobs.
Andy Mellors, Manager Director at Avanti West Coast said: "We're extremely proud of the project, and most importantly the positive reaction from our customers whose travelling experience, aided by a range of new innovations, has been greatly improved.
"This award is testament to the hard work and expertise of Alstom and our Fleet, Projects and Customer Experience teams to whom I'd like to place on record my thanks for helping make this happen."
New features delivered as part of the project include intelligent lighting, tables with wireless charging, water refill stations, seat occupancy monitoring and the use of visual woven carpet designs to promote appropriate use of wheelchair areas.
Peter Broadley, Alstom Services Managing Director said "The Pendolino modernisation project is the perfect advert for investment in our railways. The production line techniques developed at Widnes are truly industry leading, allowing a high quality and green product to be delivered every two weeks. Working with Avanti West Coast and Angel Trains, we have created something which is delighting fare paying customers on Avanti's West Coast services. We are incredibly proud to be part of this project."
The judges also highlighted the innovative approach to sustainability, most notability how recycled plastic bottles are used as part of the table manufacture while removed carpet was converted to solid fuel for use by the cement industry.
Telford based Baker Belfield, specialists in the design and manufacture of interior solutions for rail, used over 700,000 plastic bottles to deliver over 2,500 tables, all with Wi-Fi charging capability. The contract also helped create 15 new jobs.
This saved around 10kg of CO2 per table during the build stage when compared to the previous aluminium design. The new tables also have a much higher percentage of recyclable content.
Malcolm Brown, CEO of Angel Trains, said: "Our iconic Pendolino trains have been refurbished to provide a comfortable, connected, best in class passenger experience at a lower cost and carbon footprint than building new. Working together with Avanti West Coast and Alstom this project has supported UK suppliers and skilled jobs the length of the West Coast Mainline. This award is testimony to the exceptional contribution from all involved."
Pictured: Colleagues from Avanti West Coast, Alstom and Angel Trains with the Major Project of the Year Award.
Contact Information
Richard Stanton
Avanti West Coast
Notes to editors
About Avanti West Coast
Avanti West Coast, operator of intercity rail services on the West Coast Main Line, is a joint venture between FirstGroup and Trenitalia, delivering a cleaner, greener railway that drives the West Coast forward.
We're on a mission to revolutionise train travel. Our refurbed Pendolinos are returning to the rails, with a £117m investment that's delivering best in class comfort. Rebuilt using sustainable materials wherever possible, including tables made from recycled plastic bottles, our upgraded fleet offers 25,000 brand new seats, free Wi-Fi, onboard recycling and much more.
New Hitachi trains are set to replace our Voyager trains from 2023, leading to a 61% cut in carbon emissions. Quieter and roomier, with more reliable Wi-Fi, wireless charging for electrical devices and a real-time customer information system, the new 23-strong fleet is the result of a £350m investment in sustainable travel.
We're tackling climate change wherever we can, from reducing energy and water use to training drivers in eco-driving techniques and sourcing food and drink from local suppliers. Our goal is to be net zero carbon by 2031. We're on track.
For the latest news, visit the Avanti West Coast Media Centre: https://newsdesk.avantiwestcoast.co.uk/
Press Office: 0845 000 3333