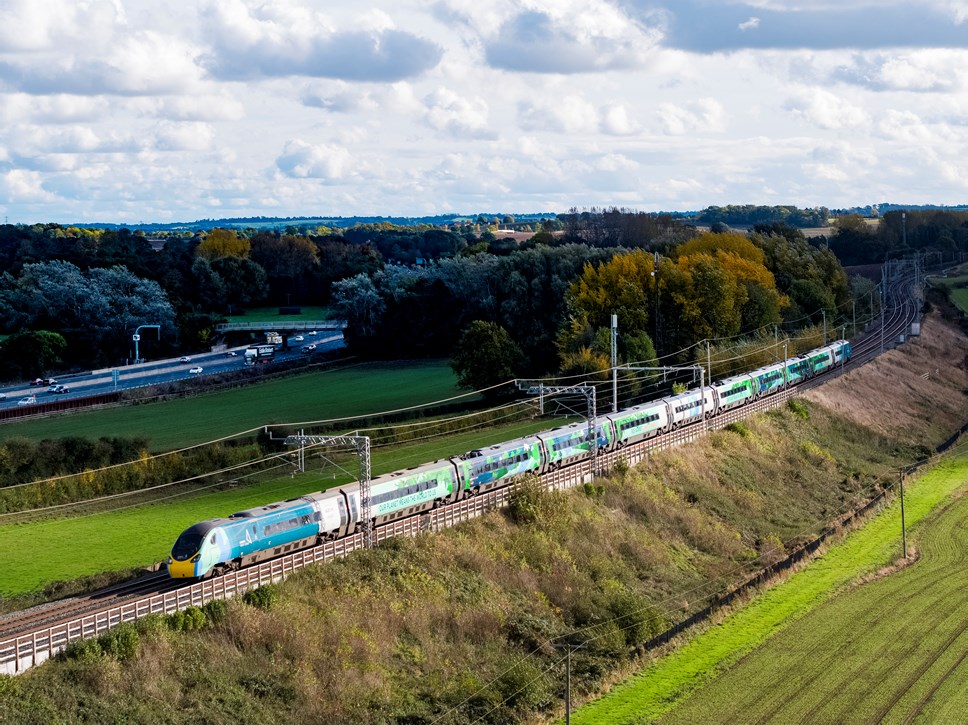 Avanti West Coast and Eurostar recognised with special award for Climate Train
Joint partnership between Avanti West Coast and Eurostar for their COP26 Climate Train scoops prestigious railway award.
Journey recognised for contribution during COP26 conference
Climate Train carried hundreds on delegates between Amsterdam and Glasgow
Honour shared with fellow operators for highlighting rail industry's role in the battle for climate change

Avanti West Coast and Eurostar's Climate Train journey has been given a special honour for showcasing rail during the COP26 Climate Change conference.
The train operator and high-speed rail operator, Eurostar, shared a prestigious Golden Whistle Award for the Climate Train journey in October last year.
The Awards are organised by Modern Railways magazine and the Chartered Institution of Railway Operators.
The special 'Climate Train' operated between the Netherlands and Scotland carrying passengers to COP26 thanks to a partnership between Avanti West Coast, Eurostar, NS, ProRail and Youth for Sustainable Travel.
Official delegations from the Netherlands, Belgium, Italy and Germany joined young people, MEPs, and NGOs such as Friends of the Earth and Oxfam, to enjoy one of the more sustainable ways to travel between the continent and COP26.
Whilst travelling at 186mph between Amsterdam, Rotterdam, Brussels and London, youth activists joined politicians and rail experts to debate and exchange ideas, tackling topics such as how to accelerate the modal shift towards sustainable travel and how innovation in rail can support this.
On arrival in the UK from the Eurostar service, delegates made their way between St Pancras and Euston to join an Avanti West Coast's iconic Pendolino.
It was fully wrapped with a unique sustainability design to celebrate journey and applied with the support of train builder Alstom, Aura Graphics as well as rolling stock company Angel Trains who own and invest in the Pendolino fleet.
The Golden Whistles "Special Award" was given to representatives of Avanti West Coast, Eurostar and Scotland's Railway for their efforts in highlighting rail's role in the battle against climate change during COP26 and beyond. It was presented at a prestigious event held at the Marriott Hotel, Grosvenor Square in London.
Managing Director of Avanti West Coast, Phil Whittingham, said: "It's a such an honour to be recognised for the Climate Train and this initiative exemplified true collaboration between international rail operators. It showed that Avanti West Coast, like the wider rail industry, is committed to cleaner, greener transport for all."
Jacques Damas, Chief Executive Officer, Eurostar, said: "Rail has a leading role to play in helping to reduce carbon emissions, and the Climate Train is a shining example of what we can achieve in this area when we come together as an industry.
"At Eurostar, we look forward to continuing this journey as we commit to lowering our own carbon footprint by improving our supply chain and the origins of the electricity we use, as well as investing in our routes, timetables and customer experience. All this comes with one single objective - to make it easier for travellers to make high-speed rail their first choice for international short haul journeys."
Phil Sherratt, Editor of Modern Railways added: "We are all aware of the grave climate crisis that confronts us. COP26 last autumn put Glasgow at the centre of the world stage. Not only did this present a great PR opportunity for the UK railway, but it was also a big operating challenge, given the huge numbers of people to be transported to, and moved around, Glasgow – at a time when the pandemic was still a big issue.
"I am pleased to say our railway measured up to the occasion. The Climate Train initiative showed the world that railways can provide a low-carbon option for long-distance travel."
Golden Whistle images courtesy of Tony Miles / Modern Railways.
Associated stories:
Contact Information
Richard Stanton
Avanti West Coast
Notes to editors
About Avanti West Coast
Avanti West Coast, operator of intercity rail services on the West Coast Main Line, is a joint venture between FirstGroup and Trenitalia, delivering a cleaner, greener railway that drives the West Coast forward.
We're on a mission to revolutionise train travel, linking together the towns and major cities of the UK to create an iconic railway the country can be proud of. We've got big plans including a fleet of new intercity trains, as well as the complete refurbishment of the existing Pendolino train fleet. We will introduce more train services every week with new routes added, and a much-improved onboard service with enhanced free Wi-Fi, plug sockets, 25,000 brand new seats and improved catering. Since 8 December, passengers have benefitted from improved passenger compensation, available for journeys delayed by just 15 minutes.
For the latest news, visit the Avanti West Coast Media Room: https://newsdesk.avantiwestcoast.co.uk/
Press Office: 0845 000 3333
About The Golden Whistles
After a hiatus in 2021 due to the Covid-19 pandemic, the Golden Whistles returns to an in-person format on Friday 25 February 2022. Organised by Modern Railways magazine, in partnership with the Chartered Institute of Railway Operators, awards recognising the efforts of operators and operating teams were presented as the climax of a full day event at the Marriott Grosvenor Square in London.